Global Initiatives
Resources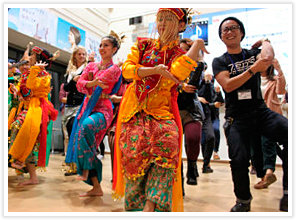 Chuo University offers many opportunities for students to explore the wider world during International Week events, including speeches by ambassadors from various countries, international symposia, and world food exhibitions. Through these events, Chuo has established strong networking links with various institutions and helped raise students' intellectual curiosity about the world. Themes of past International Weeks have included France, England, Germany, the UN, ASEAN, Australia, and Mexico.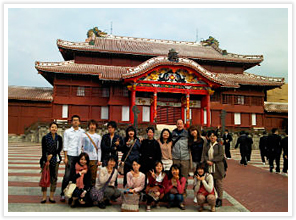 Chuo Peace Seminars are held every year in early spring with approximately 15-20 international and Japanese student participants. Students from different countries and regions of Japan, have opportunities to discuss world issues and learn from meetings with local Japanese people. The seminars have been previously held in Hiroshima, Nagasaki, Okinawa, Hokkaido, and South Korea. During recent Okinawa seminars, students have visited Ryukyu University and Okinawa International University to meet professors and students and visited WWII historical sites.
Faculty Linkage Program (FLP)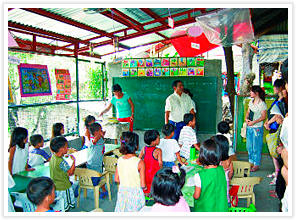 At Chuo University, all of the faculties implement unique internship and fieldwork programs to promote university-wide education that transcends traditional systems and frameworks. The goal of the FLP is to foster a new generation of specialists in various fields of knowledge. Students in all faculties can participate in diverse activities, gain broad, specialized knowledge, and develop high-level communication skills to meet the demands of today's global society.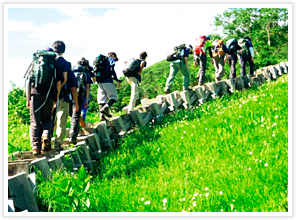 There are two main types of study-abroad programs for Chuo University students:
1. the University's own study-abroad programs (exchange programs with partner institutions, non-exchange programs, and short-term programs); and,
2. the use of holiday time or leave of absence to study abroad.
Every consideration is given to help students complete coursework begun abroad, receive credits for subjects studied abroad, and receive financial support from the University. Short-term study abroad programs are treated as the equivalent of a semester course at Chuo University.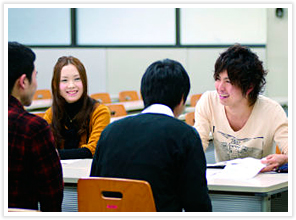 After Chuo received the Japanese government funding for the Government's Promotion of Global Human Resource Development Project in 2012, Chuo has been implementing unique internship and field-work programs in each Faculty as a process of university-wide internationalization. Language training programs are traditionally offered.
For example, take a look at the Sydney Active Learning Study Abroad Program in the Faculty of Law.
Courses Taught in English
Introduction to Japanese Law in English
Hosted by the Chuo Law School (CLS), this one-week program focuses on the basic structure of Japan's legal system and legal culture, and some specific topics on Japanese law. All lectures are provided in English by professors and are open to law students from around the world. The program also includes optional study visits to law firms, courts, and museums.
Facilities and Scholarships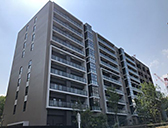 Chuo University's International Residences have a live-in manager, are designed for students to cook for themselves, and provide an environment that enables students to support each other. Various events are organized at the residences, including welcome parties, BBQ parties, sports days, seasonal events, and farewell parties.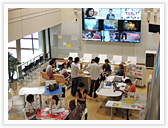 G-Square is our Global Lounge where we provide information and support for students, offering various types of study abroad information and opportunities to get to know different cultures. This ideal location for on-campus international exchange has a large flat screen displaying 9 satellite channels with programs in multiple languages.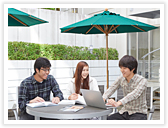 Chuo University offers various types of scholarships for both Chuo students and international students applying to Chuo. See here for details of the scholarship program for international students.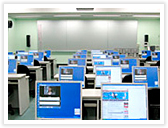 The Computer Assisted Language Learning (CALL) system supports foreign language learning at Chuo University.
Faculty of Law Resource Center
This is an interactive space for students in the Law faculty, offering support in various educational and research activities as well as career design.
Faculty of Letters Academic Lounge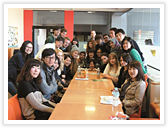 The Lounge provides counseling and information relating to exchange, educational, and extracurricular activities, open to students after course hours.
Faculty of Economics International Exchange Space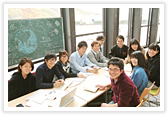 Chuo students and international students in the Faculty of Economics are able to interact with each other at the International Exchange Space.
Faculty of Science and Engineering International Student Exchange Salon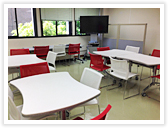 At the Salon, exchange students and Chuo students in the Faculty mingle and create a diverse communication space. Various support is offered for international students.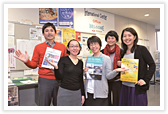 Located on the Tama Campus, the International Center provides information on both domestic and international academic institutions, as well as counseling and support for tuition and scholarship programs.