Overview of Our Global Initiatives
Messages on Go Global
"Fostering the Ability to Apply Knowledge to Practice"
Cultivating the New Era: Tradition and Achievement symbolized by Hakumon

~Go Global! Toward the Future!~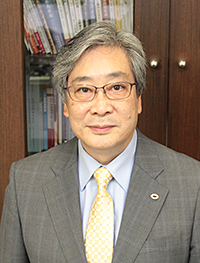 President
Hisashi KAWAI
With our founding spirit, "Fostering the Ability to Apply Knowledge to Practice," Chuo University has forged a history of tradition and achievement symbolized by Hakumon, the University's original stone White Gate, and continues to nurture individuals who go on to support society and lead the way toward the future. At the height of this new era of Society 5.0, individuals are urgently needed who can make good use of abundant knowledge and education beyond literacy, and have a positive attitude to tackle unknown issues in a creative and engaging manner.
Chuo University has situated its global strategy as one of our key inter-disciplinary goals, upholding the themes of cultivating global competencies and fostering global professionals. Not only facilitating diversity, Chuo has also deepened relationships with people and organizations in society that join together to pursue achievement of the SDGs goals, while promoting a comprehensive sense of entrepreneurship that nurtures a creative mindset. Here are some examples of our efforts: a) tuition reductions and scholarship support for students who are to study abroad; and, b) accepting foreign students through global partner schools. As of today, we have 4 global partners, in Hawaii, Bangkok. Shanghai and Hanoi. Taking advantages of each partners' unique characteristics, we will promote exchange programs (both long-term and short-term) and further coordinate with foreign universities and international institutions, with the aims of strengthening our global presence and actively enhancing Chuo University as a comprehensive institution.
Moreover, Chuo is aligning both tangible and intangible resources and focusing on developing as a global university. In order to facilitate education and research of a global standard, we established the "Faculty of Global Management" and the "Faculty of Global Informatics" in 2019. In addition, new facilities include Global Gateway Chuo and the International Residence, built in 2020 on the Tama Campus, and Forest Gateway Chuo, built on the Tama Campus in 2021.
With the relocation of the Faculty of Law from Tama Campus to the new Myogadani Campus (Bunkyo-ku) in April 2023, we have opened joint courses that offer interfaculty opportunities to study humanities and sciences from a global perspective. These will enrich Chuo's educational offerings by promoting the Faculty Linkage Program (FLP) that provides university-wide education in conjunction with STEAM education and Liberal Arts education.
At Chuo University it is our honor to foster each student's ability to apply knowledge to practice through unique education: Be global and keep learning. As we move forward, Chuo will continue to open and share its abundant human and material resources with our various local and extended communities, and actively seek to interact widely with society. We aim to become "a more open Chuo University" in order to realize learning that leads to a solid future.