Overview of Our Global Initiatives
Messages on Go Global
Go Global! Toward the Future!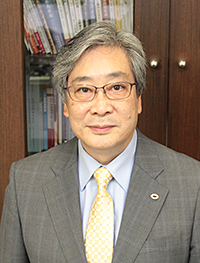 Since its foundation as the Igirisu Horitsu Gakko (English Law School) in 1885, Chuo University has built a 137-year history of tradition and achievement, symbolized by Hakumon, the University's original stone White Gate, and has worked with a mission to contribute to society by nurturing individuals who go on to support society and pave the way for the future. In the coming era, also referred to as "Society 5.0," it is even more important to acquire literacy as well as the competency to tackle unprecedented challenges with creativity and spontaneity by utilizing accumulated knowledge and skills. The "Ability" in "Fostering the Ability to Apply Knowledge to Practice" refers to this competency.
Chuo University is currently accelerating efforts to nurture global competency and global professionals on a university-wide basis with the aim of developing the university to a global standard. In addition to promoting diversity, we are also working to achieve significant development as a global university by deepening our ties with people, organizations and others in society that are taking on the challenges of realizing the SDGs; bringing about innovation through interdisciplinary cooperation; and, pursuing the enrichment of education and research.
To further promote education and research of a global standard, the Faculty of Global Management and the Faculty of Global Informatics were established in April 2019. In addition, the Global Gateway Chuo and the International Residence Chuo opened in April 2021 on the Tama Campus. In downtown Tokyo, improvement of the Korakuen Campus as well as construction of the Myogadani Campus and the Surugadai Campus are in progress.
Chuo University will also enhance its strong practical education and heartfelt learning environment based on our world-class research and education capabilities, further bringing to light our potential strengths and advancing our long-standing education and research in a future-oriented manner. In addition, we will continue to provide abundant support for students regarding acquisition of professional qualifications, job hunting, and advancement to graduate school. Furthermore, we will promote the training of legal professionals for a new era through cooperation between the Law School and the Faculty of Law. In this way, we will continue to nurture the "knowledge into action" that is necessary for individuals who aspire to build a future society.
President
Hisashi KAWAI