About Us
Greetings from Chief Executive Director, Chair of the Board
Toward Realization of Chuo Vision 2025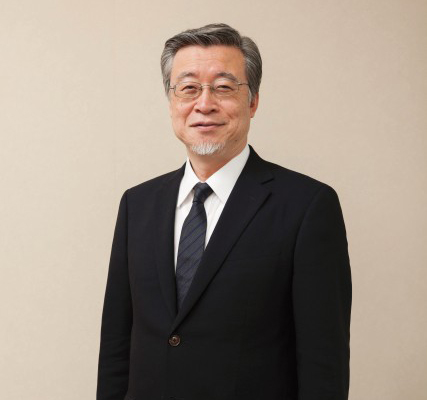 It is often said that the mission of a university is education, research and social contribution, but looking back, I believe that Chuo University has set the development of humanity as its greatest mission. This is development, of course, that leads to education, research, and social contribution. The Igirisu Horitsu Gakko (English Law School), founded in the Kanda district of central Tokyo 137 years ago has become the Chuo University of today through a glorious history and tradition of practical learning. Chuo University has a strong record of success in preparing students who pass competitive national examinations, and, especially in the Japanese legal community, a large percentage of those in Japan's legal profession have been Chuo graduates. We are very proud of this. However, the number of students who have passed the qualification examinations for lawyers, certified public accountants, etc. is not the only unique feature of Chuo University.
Rokuichiro Masujima, one of the founders of Chuo University, studied at Middle Temple in England in the early Meiji Era, and soon after returning to Japan opened the Igirisu Horitsu Gakko. After retiring from serving as its first president, he had a long career as a global lawyer with an international law practice, opening his own offices in Tokyo and abroad while actively interacting with the American bar associations. We must fully commend him for his international achievements. Many of Chuo's current faculty members are also global individuals active on the international stage. On a personal note, my efforts to assist the drafting of the Civil Procedure Code of Cambodia, as part of the Committee for Assistance in Establishing a Modern Legal System for Cambodia by the Japanese Ministry of Justice and JICA, are based on my desire to make international social contributions. Having witnessed the many people who have lost their legs to landmines begging in Phnom Penh's central market, I had hoped that one day my work would contribute in some small way to the country's development and happiness. I hope that students studying at Chuo University will also have a broad perspective and set an international goal.
In AY 2022, Chuo University will enter the seventh year of its mid-term institutional plan, "Chuo Vision 2025." Looking back, we have already realized many of the goals of the plan, including the opening of the Faculty of Global management, the Faculty of Global Informatics, the Global Gateway Chuo, the International Residence Chuo -- a dormitory for international exchange, and the Forest Gateway Chuo, a facility for use by all faculties. In the spring of 2023, the Myogadani Campus in central Tokyo will be completed. After going back to central Tokyo,the Faculty of Law will be able to promote further a new legal education and integrated educational cooperation among the Arts and Sciences, in cooperation with the Faculty of Science and Engineering, the Faculty of Global Informatics, and Chuo Law School in downtown. The Surugadai Campus, also scheduled for completion in the spring of 2023, will house the Law School and the Business School, and serve as a base for training highly specialized professionals, while also serving as the hub for alumni activities. Furthermore, reconstruction of the Korakuen Campus has been decided. In this way, Chuo University will consist of the Tama Campus, the largest, and a group of new and enhanced campuses in downtown Tokyo. After the relocation of the Faculty of Law to downtown Tokyo, nearly half (45%) of all Chuo students will be based on downtown Tokyo campuses. We will take this opportunity to further promote the digital transformation of the University's education and of the various services that support it, and to strengthen collaboration among campuses.
Furthermore, one of the important challenges for the future will be the formulation of a project of "Future Vision for Tama Campus." We expect young and mid-career faculty and staff to work with the President to establish the basic policies for teaching and learning, and we look forward to a vibrant Tama Campus in 20 to 30 years.
A great number of Chuo University graduates have become prominent in various fields, including law, politics, economics, oratory, and sports, as well as in arts and culture. To clarify further the identity of the University, I am considering creating some form of museum (archive) to publicize the achievements of Chuo University alumni, those who can be referred as legends for their outstanding contributions to the development of society.
For example, these legendary figures include Rokuichiro Masushima, the founder of the Igirisu Horitsu Gakko (English Law School), Takuzo Hanai, a leading criminal defense lawyer who served for the benefit of the common people, Nyozekan Hasegawa, a journalist who developed a discourse representing Taisho democracy, Hisashi Yoshida, a justice of the Supreme Court who ruled a national election null and void without showing favor to Hideki Tojo's cabinet, Junichi Matsunami, who paved the way for victory for victims in the four major pollution lawsuits, Toshifumi Suzuki of Seven & i Holdings Co. and Osamu Suzuki of Suzuki Motor Corporation, who respectively established new business models and defined a generation, and Shigeaki Mori, who unearthed the buried history of American POWs who were exposed to the atomic bomb in Hiroshima.
I believe there is a need for a museum that honors the achievements of these many graduates and encourages students to learn from their achievements and hardships, inspiring them to go beyond these legends.
In closing, I would like to ask for your cooperation with steadily implementing "Chuo Vision 2025," in order to further enhance the attractiveness and competitiveness of Chuo University and to make Chuo a university with a global presence, while further strengthening its traditions.

March 1st, 2022
Masahiko Omura,
Chief Executive Director, Chair of the Board, Chuo University
Profile
Masahiko Omura was born in Hyogo Prefecture in 1954. He graduated from the Chuo University Law Faculty in 1977.
He completed a master's course at the graduate school and became an Assistant Professor at Chuo University's Faculty of Law in 1979. In 1990, he became a professor of the same faculty, and in 2004, he took the positions of Dean and professor (JD course) at the Chuo Law School. He is a Doctor of Law (Chuo Law Faculty) and a specialist in the law of civil procedure.

He became Director of the Chuo University International Center in 2012, Executive Director of the Board of Directors in 2014, and Chair of the Board in 2017, reappointed in 2020. In 2021, he became a professor emeritus at Chuo University. In addition, he has conducted overseas research at the University of Texas, Cambridge University, and other institutions. In 1998 he became a member of the Committee for Assistance in Establishing a Legal System for Cambodia (JICA), and in 2002 he became a member of the Committee for Inspection of Private Education Institutions of the Ministry of Education, Culture, Sports, Science and Technology (MEXT). In 2003, he was appointed as an expert on the MEXT Subcommittee for the Establishment of Universities, Council for the Establishment of Universities and School Corporations. He became Chair of the Accreditation Committee for Law Schools, Japan University Accreditation Association in 2013, and in 2015 he became Vice President (now Honorary Vice-President) of the International Association of Procedural Law. In 2016, he became a member of the MEXT Investigative Commission for the Promotion of Private Universities.