Academics
Faculty of Policy Studies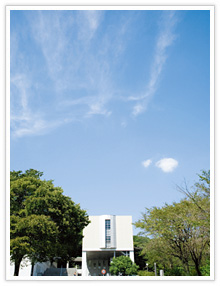 The Faculty of Policy Studies was founded in 1993 as a multidisciplinary liberal arts faculty for the purpose of developing the art of resolving complex problems facing humanity by integrating diverse knowledge across sciences and humanities. Placing emphasis on issue-oriented approaches to problem solving, the Faculty offers a rich curriculum in two fields: (1) Policy Sciences and (2) Cross-Cultural Studies. The Faculty aims to equip students with tools, skills, and integrative knowledge that are necessary to succeed in this globalized world, and strives to turn out graduates who can meet new challenges of the twenty first century with commitment, self-confidence, and respect for diversity.
Respecting cultural values and heritage, the curriculum provides students with rigorous courses designed to develop their analytical capability as well as cross-cultural competence. Students are required to take case-study courses in which they learn how to analyze real world problems by combining theory, research methods, and data. With strengths in legal studies, social sciences, business management and administration, cross-cultural and regional studies, media, information technology, and languages, the Faculty of Policy Studies gives students the opportunity to pursue their particular field of interest with interdisciplinary approaches that help them analyze real cases and issues from multiple perspectives. Students learn the key theories in their research area through a series of lectures and seminar programs, while gaining experience through fieldwork, internships, and study abroad programs. The Faculty runs active overseas internship programs for students to get first-hand experiences in the real world. It also runs special lectures and seminars by distinguished practitioners from many professions and industries.
Students in the Faculty of Policy Studies have access to a wide range of foreign language classes taught by the staff of diverse cultural backgrounds. All students undertake three years of intensive English study, along with studying a second foreign language. Students can also major in any of the following foreign languages, while also pursuing courses in culture and history that are related to the language of their choice: German, French, Chinese, Korean, Arabic, Malay/Indonesian, Russian, Persian and Hindi/Urdu.The aim is to produce graduates with the combination of language skills and cultural insight that enables them to work at an international level in business, governmental, or nongovernmental organizations.
Challengers' Program as a New Commitment:
The globalization of the world and the complexity of the problems facing humanity calls for a new multidisciplinary education that cultivates communicative skills and international collaboration. To meet this call, the Faculty has started Challengers' Program from April 2010, which is a multi-disciplinary English-mediated program supported by active international collaboration in teaching and research. The program aims at turning out English proficient and professionally-minded individuals who will be willing to serve humanity with the spirit of caring and cooperation. The program is open to all students, domestic or foreign. The Faculty hopes that students, trained in this program, will be able to make significant contributions to the well being of mankind by initiating collaborative efforts at resolving humanity's problems with their multidisciplinary knowledge and communicative skills.
Department of Policy Sciences
This department offers two fields of concentration: (A) Professional Studies and (B) Management and Policy Sciences.
In Professional Studies, students focus on legal studies on the role of law in our society and economy as well as in world community. Drawing on Chuo University's prestigious reputation in the discipline of law, the Faculty of Policy Studies promotes interdisciplinary approaches to problem solving, borrowing ideas from social sciences, business management and administration, anthropology, and other disciplines to broaden and deepen students' insight into the function of the law in the contemporary world. Professional Studies follows four main strands: Law and Economics, Modern Contract Law, Policy Making, and Diplomacy.
(B) Management and Policy Sciences
Policy sciences aim at making the world and the society in which we live a better place by understanding problems and developing the methods and the art of solving them. Because the world is a complex order, policy sciences need to integrate diverse knowledge to cope with this complexity. For this reason, the policy sciences that this Faculty advances draws on Integrative Practical Knowledge that combines (1) mathematics and computer science, (2) social sciences, and (3) humanities. The idea is to apply this integrative knowledge in solving complex problems facing humanity, and to propose policies that are based on good understanding of human values as well as on scientifically sound reasoning. This is the guiding principle that runs through policy studies of the Faculty.
In Management and Policy Sciences, students focus on complex problems facing communities, governments, business firms, and humanity in general. They study how national and local governments are managed and administered, how business firms are managed to survive in this fast changing world, and how the problems facing humanity on a global scale have emerged. As to public management, students learn how the public sector manages food security, social security, national security (including environmental protection), natural disasters, urban planning, and population control, education, and scientific research, as well as how the public budgets are allocated to achieve the socially desired ends. As for business management, students learn how to manage business firms by developing an innovative mind and acquiring the required skills. Management in the globalized world, public or private, is made more effective when combined with cross-cultural awareness of the interconnections between organizational decisions and the culture in which such decisions take place. The global issues facing humanity are another important group of problems that are discussed and analyzed in many courses and seminars, both scientifically and in reference to human values. Integrative Practical Knowledge is particularly useful in addressing such issues as the power of multidisciplinary thinking comes to full force in apprehending them. Equipped with such knowledge and power, students can learn how to examine the efficacy of policy proposals through hypothesis testing and the art of model building and simulation.
Department of Cross-Cultural Studies
This department offers cross-cultural and regional studies. Culture is a major force in the globalized world, defining a field in which political, economic, and social changes take place, and providing spawning grounds in which human values are created. For this reason, this Faculty places equal emphasis on policy sciences and cross-cultural studies. Because all human activities take place within a cultural context, policy-related decisions are better made if cultural understanding is combined with scientific thinking. Cross-cultural studies are becoming increasingly important as the globalization of the world brings with it new projects on a grand scale for building partnerships or communities that stretch over many regions and cultures. With this awareness, students acquire knowledge in cross-cultural and regional studies as well as in a broad spectrum of topics from anthropology, and learn the richness and the diversity of human cultures. Because Asia is the main focus of the Faculty's engagement in cross-cultural studies, Asian studies is a particular strength of this faculty, with experts in Japan-China relations, Western Asia, South East Asia, and Russia. Students can learn the history and the culture of many regions of Asia as well as the impact of Westernization and globalization on Asian nations from historical and cultural perspectives. Students can also pursue their studies on the rapid changes that are taking place today in Asian countries in the midst of globalization. With this knowledge of Asian cultures, students can also reexamine Japanese culture and history from the perspectives that help redefine Japan's new role in the region. Acquiring cross-cultural knowledge and competence, students become ready for jobs in business, governmental, or non-governmental organizations, both in Japan and overseas.
The Faculty of Policy Studies (FPS) nurtures students to become able to contribute to society through identifying problems, analyzing them from a broad perspective and with diverse multidisciplinary knowledge, and ultimately to present effective solutions.
A quarter century since its establishment in 1993, FPS is increasingly proving its worth.
FPS consists of two departments. The Department of Policy Sciences covers academic areas, such as Law, Administration, Politics, Economics and Business, and the Department of Cross-Cultural Studies covers academic areas, such as Cultural Anthropology, History, Religion, Ethics and Linguistics.
One of the outstanding features of our educational approach is small group seminars run by leading experts. Prominent researchers give students opportunities to develop logical-thinking skills through in-depth discussions.
Another noteworthy feature of the Faculty is the multiple fieldwork opportunities available, as we believe communicating directly with stakeholders often facilitates deeper understanding of problems.
Furthermore, FPS proudly offers classes in ten foreign languages, and our area studies centered on the Asian region are recognized as top level in Japan.
We welcome you to join FPS, where you can develop true confidence, an invaluable asset in your life, through active learning and unmatched experience.

Hidetaka AOKI Dean, Faculty of Policy Studies