Academics
Graduate School of Global Informatics
Advances in AI, IoT, and Big Data, and the accompanying technological revolution, are rapidly shaping the informatization and globalization of society. Living in this dramatically changing world, professionals are needed who can deal with complex social issues inherent in Society 5.0, the society where the real world and cyber spaces are inextricably linked. Japan is not an exemption, as illustrated by the recent establishment of Japan's new Digital Agency and the rising wave of DX in the private sector. Noting that information systems are shaping the basic structure of industry and advanced operations are required in society, development of the legal system to control such a society are essential. However, so far, no countries have succeeded in securing themselves with sufficient laws to control the progress of information technology. In such a situation, we believe combining studies of informatics and its related laws can be a catalyst that leads to solutions of the problems that the information society faces, which inspired the establishment of the Graduate School of Global Informatics.
In this era of digitalization being strongly promoted in both the public and private sector, conventional knowledge and mindset, or individual sector knowledge, will not be sufficient to solve many of the problems society is facing, such as:
a) Ethical issues related to on-board AI products, such as autonomous driving cars (ADC) or personnel recruit systems, etc.;
b) Managing enormous amounts of client data in accordance with GDPR;
c) Creative innovation using Crowd computing or Open API.
Here at the Graduate School of Global Informatics, we will nurture individuals who are familiar with theoretical concepts regarding information and applicable laws and regulations, and are familiar with and well-informed about various phenomena that occur in cyber-physical society. Ultimately, those with these talents will create original solutions and approaches for extremely complexed issues inherent in modern society. In short, the School will foster "professionals who combine informatics and jurisprudence and have a key role in designing the master plans for society."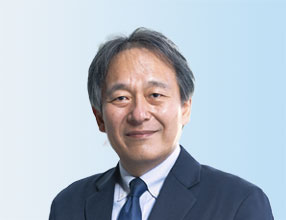 To survive in this turbulent IT society!
Chuo Graduate School of Global Informatics is focused on meeting the expectations of individuals who wish to be capable of identifying and responding comprehensively to the global changes surrounding information technology.
More than ever, society needs talented IT professionals, but what kinds of talents are needed? Innovative technologies and businesses that have impacts across the world arise one after another in the field of IT. New concepts, such as Web3, Metaverse, and DX, have rapidly appeared, and most recently generative AI is speedily grabbing attention. Talented professionals must be up to date on cutting-edge technology and the latest knowledge, or they will be left behind. However, if you are just following the latest IT trends, you might end up being a "useful" professional without getting deserved credit.
Current information technology cannot be separated from society and the economy. Under such conditions, well-grounded consideration is essential in examining issues related to information technology. There are few professionals who understand IT structure precisely, and who are able to consider issues of law and regulations, social dynamics, and business relationships globally in a well-balanced manner. With such basic knowledge in mind, it is indispensable to think logically with substantive analysis. The Graduate School of Global Informatics has been established to nurture professionals who are competent and capable of bolstering the future of such an information society through academic study.
It is most often those who have gone out into the world and struggled in business or in the field of policy that recognize the importance of such a background. To meet the demands of working professionals who wish to undertake recurrent education and reskilling opportunities, the Graduate School, Ichigaya Tamachi Campus, is located in the city center at Tokyo Metro Ichigaya Station, Exit 6, convenient for students who commute. In addition, the curriculum is designed for working individuals who take courses after work or on weekends.
The Graduate School of Global Informatics also welcomes those who wish to pursue postgraduate studies immediately after completing their undergraduate degree. The School is convinced that by completing our graduate studies, students will be able to enhance their future careers. Studying with classmates who have actual working experience allows recent undergraduates to gain insights into the business world, as well as enabling them to engage in more practical and valuable research.
In order to realize this high ideal of education, the School boasts faculty members who possess cutting-edge insights and keen enthusiasm for the fields of "AI and data science," "Social design and social implementation," "Information law," and "Global communication." Many faculty members also have a wealth of practical experience, with some participating in government policy deliberations. The School is proud to offer a system that provides practical research guidance based on a strong and stable academic foundation.
The Graduate School of Global Informatics welcomes new students eager to acquire the abilities needed to identify and respond to the real world global changes taking place in the information technology field.
Taro KOMUKAI Dean, Graduate School of Global Informatics