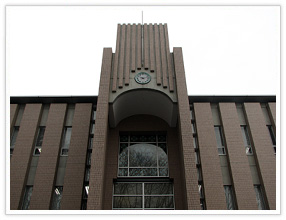 The history and tradition of the Chuo Law Faculty date back 137 years to the founding of Chuo University as the Igirisu Horitsu Gakko (English Law School). In the intervening years since 1885, Chuo has produced many talented graduates who have served in the fields of law, government, politics, and business. And while maintaining its longstanding traditions, the Law Faculty remains committed to reforming and updating its curriculum and educational methodology in order to respond to the needs of university students in our ever changing, globalizing society.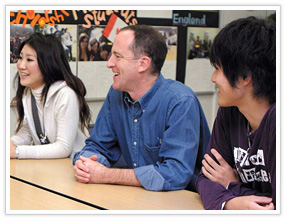 Chuo's undergraduate law curriculum is focused on fostering skills and knowledge for graduate study at the Chuo Law School and for work or study in a broad range of professional fields. The Faculty offers numerous foreign language courses tailored to students' needs and abilities; study-abroad programs continue to be created and expanded; and, new courses are regularly developed to help students realize more international perspectives. Other opportunities available include a wide range of courses taught in small-group seminars, as well as academic and professional training in essay writing, critical thinking, problem solving, discussion and debate. Above all, the Law Faculty aims to motivate and draw out the "can do" spirit within each and every undergraduate student.
Departments:
Law
International Law and Business
Political Science
Date of Founding: 1885
Campus: Myogadani Campus
Number of Students: Undergraduate Student Enrollment
Video: Studying Law at Chuo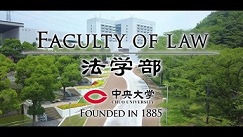 In this video, students and faculty members of the Faculty of Law talk about their experiences studying and teaching at Chuo University.
Using Scholarships to Gain International Experience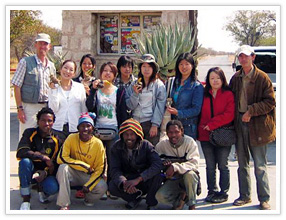 At Chuo University students can receive support for international study, internships and volunteer work. For example, in our Law Faculty there is a scholarship system, called YARUKI, to encourage highly motivated students. These scholarships are for students who would like to study abroad, do volunteer work in NGOs, and students who want to do extra study to be lawyers, researchers or civil servants. To receive these scholarships we have to plan everything on our own and show our passion in our application and in an interview!
Last spring vacation, I went to Victoria, Canada, using a YARUKI scholarship. This study abroad was only one month, but I had so much fun and it helped me to grow up a bit more. Until that time I had never been abroad or taken an airplane so I was nervous and scared. But people I met were so kind and helped me a lot. This experience gave me confidence and stimulated my motivation even more.
Based on this first travel experience, I was motivated to use a YARUKI scholarship to come to Vietnam as part of the Law Faculty's International Internship Program. Through this Program I hope to understand my future goals better, because I have a great interest in international relations, politics and law, and I would like to work at an international organization or public office after graduation. During this Internship Program we will visit Vietnam and India, and we will see how people work to tackle environmental problems on various levels. Based on these experiences, I would like to grasp what I can do to make a more stable international society, while learning how to make myself a better person.
Minako Kageyama, International Law and Business, 2nd Year
Chuo University was founded in 1885 as the Igirisu Horitsu Gakko (English Law School). Ever since, the Faculty of Law has been committed to providing education and conducting research in line with our founding spirit and traditions.
Law is closely related to our society and everyday life. Whether we are conscious of it or not, our life is protected and restricted by various laws and regulations throughout each day and night.
As globalization picks up speed, there is increasing need for laws and regulations that extend beyond national borders. How to analyze and assess legal conflicts and problems arising in our global legal society, as well as how to present fair and appropriate solutions, are urgent challenges we face today.
The Faculty of Law aims to cultivate individuals with such abilities -- those who are capable of recognizing problems and presenting solutions from globalized legal perspectives, i.e., individuals with "global legal minds."
In addition, our alumni are active in a wide range of careers. Whatever career path you may choose, the "global legal mind" you cultivate in the Law Faculty will surely be a valuable asset for you throughout your life.
Takashi INOMATA Dean, Faculty of Law