Faculty of Science and Engineering
Civil and Environmental Engineering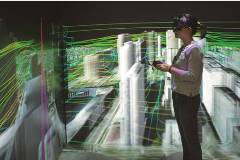 The Department of Civil and Environmental Engineering aims to foster engineers capable of creating new urban environments, analyzing urban spaces by employing a social-science approach, and bequeathing the earth science-based study of natural environments to future generations.
For this purpose, our department offers two courses: "Urban Environment Design" and "Urban Planning". Students enrolled in Urban Environment Design study natural science, such as applied mathematics, fluid dynamics, and soil mechanics, in order to analyze natural phenomena and train to become urban environment designers. Students who select Urban Planning, on the other hand, learn knowledge of law, administration, finance, etc., which will be of help in planning cities and improving urban lives.
Our department has three characteristic curricula that: (1) provide seminars for teaching design skill and related knowledge; (2) offer tours of construction sites and internship programs to encourage work experience; and, (3) involve lectures for senior graduates in order to introduce the newest technologies and issues. Through these curricula, students become great professional engineers that can improve urban designs and human lives.
Coastal Engineering
Tsunami Engineering
Concrete Engineering
Transportation Planning
Computational Mechanics
Soil Environment
Design Engineering
Urban Design Engineering
Highway Engineering
Geotechnical Engineering
River Engineering
Hydrodynamics