Faculty of Science and Engineering
Precision Mechanics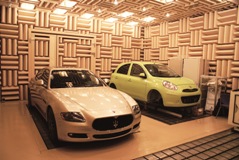 In the Department of Precision Mechanics, students study a wide range of basic knowledge and technologies in the field of precision mechanical engineering. Precision machinery industries, an area of strong expertise in Japan, require high levels of precision and manufacturing technologies. Through the pursuit of high precision, we seek machines with high performance and, consequently, new potentiality.
Our department pursues "preciseness" in the technical domains of precision machinery through research activities. Each laboratory addresses issues in various academic domains of precision mechanical engineering from broad perspectives. In particular, about one-third of the professors perform research on robotic technologies, focusing on "diversification" and "intelligence", such as robots based on unique principles that mimic living creatures or robots that cooperate with humans. Their active research is reported in international and domestic societies on robotics.
More than ten thousand students have graduated from our department since its establishment seven decades ago. Thanks to the high reputation of our alumni, we receive about 3,000 job offers every year. Our research activities enable students to acquire problem finding and problem solving skills from a global viewpoint that will become lifetime skills in any field of engineering. In this era of rapid change, these are requisites for a leading engineer who can sensitively detect changes in global environments and find essential issues and solutions.
Our lives have changed dramatically with the advent of advanced devices such as smartphones, drones, and self-driving cars. In addition, artificial intelligence (AI) has made remarkable progress in recent years, and a major trend in the manufacturing industry is to entrust AI with tasks that were previously performed by humans. Under these circumstances, the software industry tends to be the focus of attention, but in order for AI to play an active role in the real world, precision sensors/actuators and precision machines equipped with them are indispensable, and knowledge and experience in making precision machines will become increasingly important in the future.
In order to nurture human resources who can play an active role in these turbulent times, the Department offers an educational curriculum in which students acquire basic knowledge through a wide range of classes on precision machinery and practical skills by engaging in cutting-edge research. The number of graduates from this curriculum has exceeded 10,000 in the 70-odd years since the department was founded, and the department is highly regarded in society.
The department has researchers in a wide range of fields related to precision mechanical engineering, conducting world-class research in their respective fields. Students assigned to our laboratories are also involved in these researches and present their results at many national and international conferences.
The practical problem-finding and problem-solving skills that you will acquire through your research will surely help you when you go out into the world and work in a completely different field. In particular, in order to play an active role in future growth industries such as robotics, biotechnology, medicine, smart materials, and cyber-physical systems, it is important to be interested in everything you do and keep learning.
Quantitative Visualization Measurement for Thermal Fluid Engineering
Image Processing for Robotics and Industrial Applications
Kinematics and Control of Robot Manipulators
Manufacturing science/engineering and digital applications to smart factory
Micro/Nano Sciences and Technologies for Biology and Self-Assembling Systems
Material Strength to Improve the Safety of Machines and Structures
Smart Sound Design for Comfortable and Functional Sound Environment
Micro Electro Mechanical Systems for Medical Devices
High Power Ratio Artificial Muscle and Its Application to Bio-Inspired Robots and Power Assist Devices
Human-Robot Collaboration/ Communication and Human Assistive Robotics
Micro- and Nano-Robotics for Biomedical Applications
Thermal Problems in Interdisciplinary Fields Related to Solid-Liquid Phase Change
Micro-and Nano-Mechanics of Multifunctional Materials