Academics
Faculty of Commerce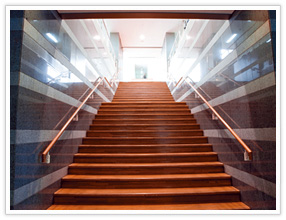 The Faculty, with its long tradition of providing a practical education in the various aspects of corporate activities, is divided into departments that provide specialized courses in four basic areas: business administration and information, accounting, distribution, and finance. The Faculty of Commerce prides itself on the accomplishments of the professionals it has educated and nurtured, as well as for having among the highest number of successful candidates in the country for the CPA Examination.
In 2000, the Faculty switched over to a "Flex" system, and also established four series of special curriculum focusing on certification for accountants, business English, management strategies, and certification for financial specialists, highlighting the new university educational system with its emphasis on providing practical business skills. Furthermore, to respond to changes in the business world, the educational system has also undergone changes, including such measures as introducing the course system for English and other foreign language subjects, and upgrading the information education program through the installation of 500 personal computers.
Further changes took place in 2004, when the semester system was introduced to make the educational process more effective. Other measures, such as the establishment of an internship program and introduction of seminars from the latter half of the second year were also instituted to respond to the changing needs of education.
Departments:
Business Administration
Accounting
Marketing and International Trade
Banking and Corporate Finance
Date of Founding: 1909
Campus: Tama Campus
Number of Students: Undergraduate Student Enrollment
Lecture series with Leading Business Experts
A series of lectures with leading business experts aim to encourage students' career design and choice. There are two types of lectures available. 'Interdisciplinary Lectures' deal with a variety of related topics, and provide students with opportunities to hear business leaders talk about their on-the-job experience and knowledge. 'Special Lectures' contain more specific topics like 'Intellectual Property Practice' and the 'Theory of Securities Business'. Professionals from Canon, Nomura Securities and other companies are invited for practical lectures.
Effective Seminars with Small-Class Size
Since seminars with small class size are greatly important to respect students' independent and enjoyable study, they are available at suitable levels for each year. The maximum number of students in each seminar is approximately 15. 'Basic Seminars' are organized for freshmen to develop their basic academic literacy: reading, writing, information-gathering and critical-thinking abilities. Topics for discussion and presentation are picked up from various fields of the humanities, natural sciences and social sciences. 'Seminars on Topics' for sophomores are advanced versions of Basic Seminars. Two-year 'Research Seminars' are organized for juniors and seniors to complete their undergraduate research.
Professional Training Programs in the 21st Century
Four professional training programs reflect new business concepts in the 21st century. The 'Accountant Program', the 'Business Communication Program', the 'Business Innovation Program', and the 'Financial Specialist Program' are available with small-class size. These programs offer students best professional training in order for them to be qualified as certified public accountants and licensed tax accountants, to be proficient in business English, to learn management strategy with IT operations, and to pursue a career in corporate finance, respectively.
Chuo University Faculty of Commerce was established in 1909 and has a long history and tradition. Since establishment, we have sent out talented individuals who lead various fields including business, academia, politics, government, culture, entertainment, and sports. In particular, the number of students who pass the CPA exam has always been one of the highest among Japanese universities. We will continue to make further efforts to cultivate excellent professionals who will become the foundation of society.

The Faculty of Commerce is a faculty where students can learn about many things, with a focus on "companies". We study companies from various angles and are constantly researching the way companies function in new era.
There are various aspects to this single word "company". For example, what kind of competitive strategy should a company develop in a severe economic climate? Or, what kind of organization is necessary for employees to have a sense of pride and fulfillment in their work? These are both "management" issues.

Also, how should companies raise funds? How should the financial mechanisms that support companies be organized? These are "financial" issues.

Furthermore, how can we properly connect a company's products with the needs of consumers? This is a "marketing" issue.

And finally, what processes are necessary in order to accurately report the company's results to investors and society? This is where "accounting" comes into play. Companies that address these basic themes in a balanced way will be the ones that gain the trust of society and grow significantly.
In line with these basic themes, Chuo University Faculty of Commerce has established four departments: the Department of Business Administration, the Department of Accounting, the Department of Marketing and Trade, and the Department of Banking and Corporate Finance. At the same time, we have devised a curriculum that lowers the barriers between departments as much as possible, so that students in the Department of Business Administration can study finance and students in the Department of Accounting can study marketing.

In order to learn in depth about companies, it is necessary to also study about the economic and social conditions surrounding companies, their coexistence with the natural environment, and the culture and history of various countries and regions. The Faculty of Commerce focuses on education in economics, law, liberal arts, and a variety of foreign languages as research and education fields that stand alongside specialized fields. This is because we believe that acquiring such a holistic education is the most important element for individuals to thrive as the world moves forward.

Chuo University Faculty of Commerce will change the name of the Department of Marketing and Trade to the Department of International Marketing in the 2022 academic year in order to further develop the knowledge and experience we have gained to date. We also offer unique classes, including those on social business in which students work on solving local issues, and others on sports business in which students work on managing soccer clubs. These activities have been widely covered in the media.

Furthermore, we have established our own diverse scholarship system to support various activities, including studying abroad and taking qualifying examinations.
The spread of COVID-19 has taken a toll on university life in many ways. Nevertheless, the students, faculty and staff of the Faculty of Commerce have not lost heart and are taking strong steps toward a new future.

Let's all work together to spread our wings toward the boundless future!
Yoshio INOUE Dean, Faculty of Commerce
Close