Academics
Faculty of Letters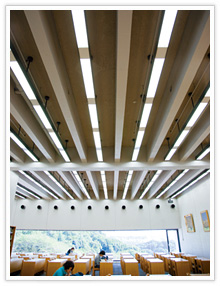 The Faculty of Letters, established in 1951, offers a wide range of programs in the Division of Humanities and Social Sciences, including 13 different departments and a program: Japanese Literature, English Studies, German Studies, French Studies, Chinese Studies, Japanese History, Asian and African History, European and American History, Philosophy, Sociology, Socio Informatics, Education, Psychology, and Interdisciplinary Studies.
The Faculty aims to cultivate students with an understanding of human beings and society along with the skills to continue learning throughout their lives in a society where we must all face a broad range of challenges. Students at the Faculty are provided with various learning opportunities to explore "what humans and society are, and how they should relate to one another as well as how students can integrate themselves within such an intricate society." Our educational goals are to nurture students' capacity for insight, broaden their perspectives, and enhance their communication skills, and thus to enrich their minds.
Due to our broad-ranging and flexible curricula, students can choose their own combination of courses from among more than 600, including literature, history, philosophy, pedagogy, psychology, sociology, communication, and many more. They also take courses in subjects ranging from classical literature to present-day areas such as career design. Students can make the most of small-group classes and seminars where they exchange views and participate in discussion. Moreover, students can take advantage of major-specific library collections with plenty of materials, and consult with members of the academic staff regarding their research specialties.
Departments:
Japanese Literature
English Studies
German Studies
French Studies
Chinese Studies
Japanese History
Asian and African History
European and American History
Philosophy
Sociology
Socio-Informatics
Education
Psychology
Interdisciplinary Studies Program
Date of Founding: 1951
Campus: Tama Campus
Number of Students: Undergraduate Student Enrollment
Social events for international students in the Faculty of Letters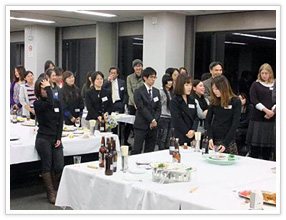 On October 28th 2011, the Faculty of Letters organized its first social event for international students enrolled in undergraduate and graduate programs in the Faculty.
Fifty international students, including degree-seeking students, exchange students, graduate students and research students, joined the event and enjoyed talking with members of the academic and administrative staff of the Faculty. While international students shared frank stories about their lives in Japan in general and their lives at Chuo in particular, several professors introduced courses that may be of interest to international students and encouraged them to join in and exchange views with Japanese students.
The Faculty of Letters is pleased to take this occasion to promote interaction between faculty and students, and to further opportunities for networking events for both international and Japanese students.
The 125th Anniversary: Hiraki Ukiyo-e Collection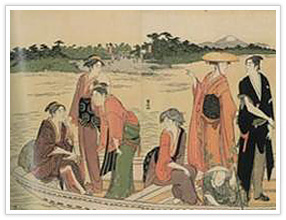 Chuo University celebrated the 125th anniversary of its foundation in 2010. The Faculty of Letters has commemorated the occasion by holding an exhibition of masterpieces from the Hiraki Ukiyo-e Museum's collection. This is a world-renowned collection that includes many important cultural assets of Japan. For this event we placed on exhibit a special selection of rarely seen ukiyo-e masterpieces that are among the pride of Japan. We also held an international symposium entitled "What was Ukiyo-e? On the Cultural History of Ukiyo-e," which included panelists from the United States, the United Kingdom, and Japan. In numbers far exceeding expectations, visitors to the exhibition and participants at the symposium clearly recognized the significance of these traditional assets. The Faculty of Letters hopes to continue to find opportunities in the future to disseminate information about examples of traditional Japanese heritage throughout the world.
The Faculty of Letters is a place for cultivating the ability to think fundamentally about the dynamics and meaning of human life and society. It is a place where students study the classics and the realities of life to address various problems facing people and society, and creative activities are encouraged. We nurture the "wisdom" to ask questions and to understand fundamental problems behind global issues arising in global society, not simply the ability to solve problems. We intend for studies in the Faculty of Letters to provide the "wisdom" needed to create a world in which all people, creatures and nature are quietly respected simply because they exist.

To realize this, the Faculty of Letters offers 13 majors: Japanese Literature, English Studies, German Studies, French Studies, Chinese Language and Culture, Japanese History, Asian and African History, European and American History, Philosophy, Sociology, Socio-Informatics, Education, Psychology, and an Interdisciplinary Studies program in which students themselves can decide what and how they want to learn.
With a variety of full-time faculty members who have in-depth knowledge of various academic fields, languages, cultures and regions, we cover extensive research fields ranging from humanities to social sciences, some of which are close to science. There are traditional fields as well as cutting-edge fields to pursue.

We strongly recommend The Faculty of Letters to those of you who are willing to think about fundamental issues and concepts, such as what it means to be human, how to live, what society is, and what kind of future we should create. The Faculty is also a place of learning highly recommended for students who want to tackle challenging problems facing modern society, who want to comprehensively understand the lives of people living in the past, the future, and the here and now, and who want to engage in dialogue and grasp reality from different perspectives and standpoints in a cross-disciplinary manner.

So, what is the significance of learning at a place like the Faculty of Letters?

Since the Great East Japan Earthquake on March 11, 2011, and during the COVID-19 pandemic in particular, we continue to face an "unfathomable future." There are increasing numbers of problems that seem beyond our control, and scientists are facing unprecedented challenges. What is needed in this current age is not only the ability to solve problems based on acquired knowledge, but also comprehensive wisdom that enables individuals to raise questions and address problems across various fields. The Faculty of Letters takes pride in offering a place where students can acquire knowledge and wisdom that can be valued across generations, rather than simply following the changing times -- a place for full-scale learning incorporating past research that might seem outdated, but has the potential to move beyond trends into the forefront.

Edward Said, an intellectual who lived in New York, far from his homeland of Palestine, once said, "Universities now produce experts who become consultants for the state and government, but that is not the only mission of universities. True intellectuals may be born in fields that cannot be 'products.'" As Said suggested, we hope that you will join us in our attempt to create the "wisdom" of the next age together, modestly, thoughtfully, carefully, softly, and deeply (lentius, suavius, profundius).

Considering the limits and significance of human beings and society, examining the history and society within ourselves, raising new questions, establishing forward-looking prospects for a new society, and envisioning "new forms of human connections," please expand the wings of your thoughts in all directions at the Faculty of Letters!
Michinobu NIIHARA Dean, Faculty of Letters
Close