Resources
Sydney Active Learning Study Abroad Program (Faculty of Law)
Interview with Professor Nix on the 2013 Pilot Program and the new Sydney Active Learning Program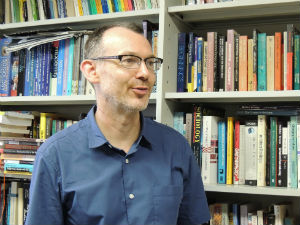 Professor Mike Nix, Faculty of Law, Coordinator of the 2013 Pilot Program
Four students participated in the Chuo Law Sydney Program that took place from February 24 to March 2, 2013, as a pilot for the new Sydney Active Learning Study Abroad Program scheduled for February 18 to March 8, 2014.
Under the comparative theme of "Investigating Diversity, Human Rights and Civil Society in Australia and Japan," Sho (Hisako) Kodama, Ryo Ito, Yumi So and Nozomu Kawashima carried out individual research projects on the Repatriation of Ainu and Aboriginal Ancestral Remains, Health Issues for Asylum Seekers in Japan and Australia, Refugee Resettlement in Japan and Australia, and LGBT (Lesbian, Gay, Bisexual and Transgender) Activism and Media Coverage in Japan and Australia. We were grateful for the support and mentoring we received from PhD students of the Centre for Peace and Conflict Studies, University of Sydney (CPACS), as well as the financial support of the Australia-Japan Foundation.
The pilot program proved to be a success, as the students were able to build new relationships with the people they met and interviewed, such as Australian Aboriginal people, refugees and their supporters, and journalists writing about LGBT issues, and also by visiting related organizations. Thanks to the pilot we were also able to see the importance of developing a clear framework and structure for the program in the future, which would help create a better schedule for fieldwork, as well as time for reflection and presentations by students.
This program was a wonderful opportunity for students to take their studies to another level, by actually meeting and connecting with the people who were directly involved in and affected by the issues they were researching. Through fieldwork, we saw the students gaining a sense of reality and closeness with the people they interacted with, which was different to what they could get out of Internet- and book-based research. For example, when a refugee support group and refugees showed us their generosity by cooking us a wonderful lunch of food from Afghanistan, we learned a valuable lesson about building a relationship and being hospitable to people who you meet for the first time.
More examples of lessons learned from fieldwork include Nozomu's insight about the debate on whether the Sydney Gay and Lesbian Mardi Gras parade is political or just entertainment. He found that the key is about education, that if people were able to learn from Mardi Gras about different lifestyles, there is no need for a distinction between politics and entertainment.
And Sho learned that there are both positive and negative views in Australia, but overall awareness of indigenous people is strong, which she found very different from the situation in Japan. Based on this, she came to think that it is important for people in Japan to also have a solid awareness of indigenous issues, a position she reached through discussion with people in fieldwork, not from disembodied, book-based research.
By taking initiative for their projects, the students went through a change in identity, realizing that they were not only students learning about Japan and Australia but experts in their area who could explain to Australian people about the situation in Japan. Students were also clearly building their confidence and self-efficacy through tasks such as calling to make arrangements, interviewing, and communicating and researching in English.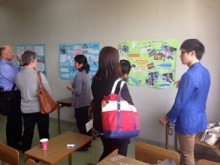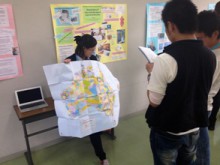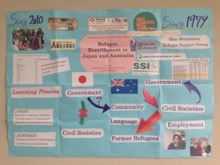 Students on the pilot program explaining their research in poster presentations at a language education conference in Miyazaki in May
On the program, I stress the importance of the students being involved in society and being engaged with people and organizations outside of university, since changes and action are happening beyond the classroom. We also want to keep developing the relationships we built in Sydney and explore possibilities of inviting people from Australia for a mini-conference in Japan. The program is a work in progress and we want to keep developing it in co-ordination with groups in Australia.

For this year's program, we are looking forward to participation by students who have a sense of seriousness about how the topics in the program affect real people's lives. If you have a critical curiosity about diversity issues and human rights and are interested in understanding them better through talking with people and knowing how people see things differently, and then trying to make sense of these issues in both Japan and Australia, you will enjoy the program. You will need to work well with other people and be able to interview people in English, but we are flexible about language proficiency for motivated students who will work hard to develop their English for doing fieldwork.

To students interested in the program, this is a great chance to connect academic knowledge to the real world. Learning from refugees or indigenous people, for example, about their experiences and viewpoints will help you realise not just the differences but also the similarities between them and you. This opportunity to change yourself through encounters with people, to learn about what is important in people's lives, will in turn help you think about what is important for you. We look forward to exploring these issues and relationships and continuing to build the program together in the future with the students who participate in it.
Interviewed with Professor Mike Nix, Faculty of Law, Coordinator of the 2013 Pilot Program