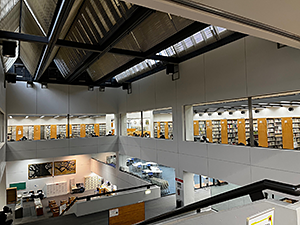 With a history stretching back over 135 years, the Chuo University Library boasts a total collection of approximately 2.5 million volumes. Information on the entire collection is stored on a database, and can be searched from terminals connected to the Library's system Chuo Online Information System (CHOIS). The Chuo University Library owns a large number of world-class collections as well as many useful databases.The Library provides users with access to a variety of academic information that is indispensable for research and academic study.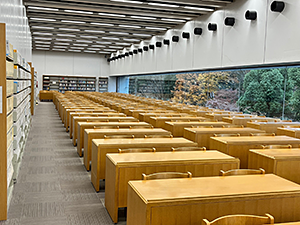 Central Library
Located in the center of Tama Campus, the Central Library has a stack room, an open stack room, reading rooms, as well as collaborative learning facilities such as a group performance room and a presentation room. There are 1,700 seats available for users.
The Central Library is the focal point of the Chuo University libraries and houses 190,000 volumes in open stacks, and 990,000 documents and volumes in closed Stecks(including external storrage). It enables the users to access highly precise reading materials services and guidance in using resources. There is a reference room where staff members respond to users' questions and provide advice on document searches. A CHOIS student advisor is always on hand to deal with users' questions.
Library service for citizens [Central Library]
The Central Library allows citizens living in the vicinity to take advantage of library use on the following conditions:
(1) Persons living and also possessing a valid library card of Hachioji-City, Hino-City or Tama-City. (Persons working in these cities are excluded.)
(2) Persons aged 20 years and over.
*Persons belonging to other universities, institutions, or colleges may use a mutual cooperation program. Preparing for entrance exams or usage for commercial purposes are not allowed.
(3) Books and journals located on the 2nd and 4th floor can be used in the reading room. Checking out any materials outside the library is not allowed.
Rare Books and Special Collections