Student Voices
Margarita Till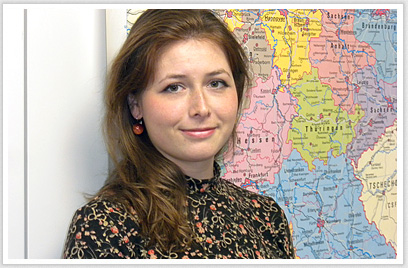 Margarita Till

Free University of Berlin, Germany
You came to Chuo in September and you finish in February?
Yes, I will do an internship in Tokyo and stay until summer. I like drawing manga, so I will work as a Manga assistant, with a Japanese artist.
How long have you been studying Japanese?
Eight years in total; four years in junior high, and three in high school, and some at university. When I was 14 and living in Saint Petersburg, I became interested in Anime and I wanted to learn this language.
Why did you choose Chuo University?
Chuo is a partner university of my own university (Free University of Berlin) and there are five or six universities I could choose from. My friends told me Chuo is a very good university to study language. It is not in the middle of the Tokyo, so there is more nature and it is not so stressful. Before I came here I expected Tama to be more like a downtown area, but it is quite suburban, which is good.
I live in the student apartments in Seiseki Sakuragaoka. My place is in sixth floor with a nice view of Tama City and Mt. Fuji. Very nice and practical. There are many shops near the apartment, and also the Tama River, so I can go for long walks. I ride my bicycle everyday to Chuo, which takes about thirty minutes.
What is your future plan?
That's difficult question. It was my dream to become a manga artist before but I'm not sure now. I think I would like to do something related to Japan, like interpretation.
Do you have any advice for foreign students who may be coming to Japan?
I wanted to participate in some sports or culture clubs at university, but I didn't have time because I was studying a lot and I have friends outside the university. It's good to attend clubs and make friends at school. I'm very satisfied with this university, and I think everyone should come to Chuo.