Meet the Chuo Community
Ian Francis Carillo Dueñas
Networking is the key to studying abroad
Research on process of learning English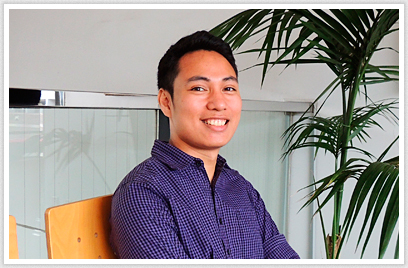 Doctoral Program, Graduate School of Letters (exchange student from September 2009 to March 2017)
My first overseas experience was visiting Japan. Japanese culture is very popular in my home country, the Philippines, and I always had the impression of Japan being a beautiful country that boasts a vast and high technology. For this reason, I always wanted to visit Japan and decided to study at Chuo University as an exchange student from University of the Philippines, Diliman, which is a partner university.
Currently at Chuo, I am conducting a research on how non-English speakers learn English. Since there are similarities in the learning difficulties people face in Japan and the Philippines, I wish to teach non-English speaking students the quickest way to master English at universities in either or both countries.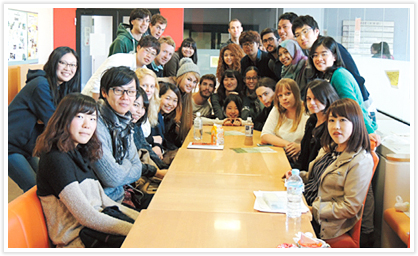 One of our lunch events at the Academic Lounge
The great part about being here is that I get to meet with other international students from around the globe as well. I am also a staff at the Academic Lounge, where many Japanese and international students come to discuss various issues. We also organize lunch events several days throughout the week so we can talk about our studies, learn each other's languages, and get to know each other. Our group has now become quite close and even meet off campus.
I would like to suggest to other international students to actively participate in various activities on campus to make Japanese friends. I would say most Japanese are quite shy, so we are required to become more open and approach them.
Since my stay in Japan, my communication skills have developed significantly. I used to be immersed in my studies when I was in the Philippines. Since I am shy as well, I had many difficulties at the time I first arrived here. I am grateful for friends and people around me who have supported me so far, and that is why I am now doing my best to support other international students. I cherish meeting with many people and the network that I built here. Being on an exchange program is really not just about studying, but getting involved in activities and meeting with as many people as you can.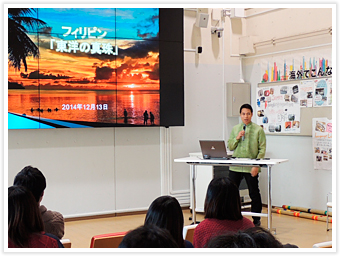 Speaking at the 6th International Week
Wearing the traditional barong Filipino (right) at the ASEAN students' event