Meet the Chuo Community
Raphael Languillon
Researching in an ideal academic environment- My second time at Chuo
Discovering Tokyo, a mature global city and its urban renaissance policy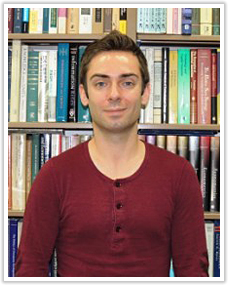 Faculty of Policy Studies (exchange program from April 2012 to January 2013)
I am majoring in Public Policy at the University Lumiere Lyon II in France, a partner university of Chuo. My professor Philippe Pelletier recommended me to study at Chuo and I decided to join the exchange program from April 2012 to January 2013.
At Chuo, I researched on the topic "Urban renaissance policy in a mature global city –The revival of Tokyo-" in Professor Sukehiro Hosono's research group at the Graduate School of Public Policy.
Although Japan's economy has continued to plunge after the burst of the bubble (the Lehman crisis), Tokyo today has matured more than that at the time before the crisis, and turned into a competitive, creative, and global city. I was curious to find out how a city's maturity can be measured, and also how the revitalization of a city affects its maturity level.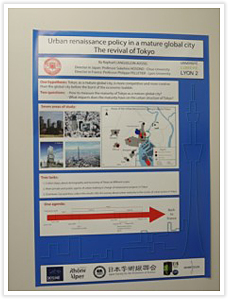 I began by collecting data connecting population and the economy. I met and interviewed people in corporations and organizations who worked closely with the city revitalization projects for Marunouchi, Roppongi, Nihonbashi, Shibuya, Odaiba, and Sky Tree. After writing a research paper on this subject I gave a presentation at the Japan Association for Planning and Public Management held in Okayama University in September.
In June 2013, I joined the fellowship program of the Japan Society for the Promotion of Science (JSPS) to study at Chuo University again for one month. As I continue to further research on the topic that I studied while I was previously here on exchange at Professor Hosono's research group, I have been interviewing the local shopping street stores about whether they feel that the revitalization plan is beneficial for them. I will be writing a research paper when I go back to France and give a presentation at an academic conference in August.
About the International Residence
When I first came to Chuo University after studying at Tokyo University, I had the impression that Chuo was very lively. The campus was overflowing with students during the orientation period and many approached me with friendly invitations to their sports and culture clubs. During my stay at Chuo, I made many friends especially after joining the student volunteer group Sputnik, as well as ESS. I am grateful for all the warm support I received from professors and staff at the International Center. My dormitory was located in Seiseki Sakuragaoka, and I was able to enjoy the great view of Mt. Fuji from my room. I also liked how the campus was very clean and surrounded in greenery.
My goal is to further pursue my expertise and teach at a university like Professor Hosono. I hope that many international students will come to Chuo University from around the globe.
With Professor Hosono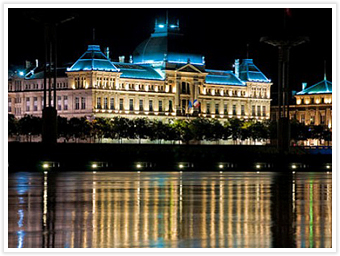 University Lumiere Lyon II