Meet the Chuo Community
Kana Wakaumi
To make people in all areas of the world happy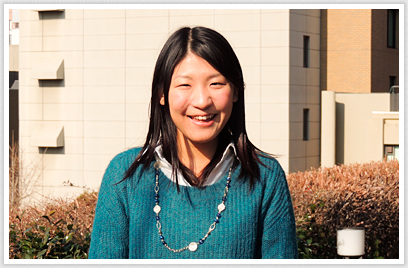 3rd year Faculty of Science and Engineering, Department of Industrial and Systems Engineering
When I was in high school and attending one of Chuo University's open campus events for the Faculty of Science and Engineering, I was inspired by Professor Toshikazu Kato's Human Media Engineering laboratory. The lab analyzed the human's psychology in numbers to provide beneficial information for society. I was very impressed and decided to enter Chuo to take his classes. After 3 years and learning various areas of study, my interest shifted to marketing sciences, which led me to join Professor Takashi Namatame's laboratory in my 4th year.
Improving language skills
I was always interested in international matters. I became friends with an international exchange student during high school. I remember my desire to travel overseas became stronger when I was so happy to be able to communicate with her.
Afterwards, I enrolled in a short-term exchange program from my second to third year in Chuo. I studied hard at a language school in Vancouver. I made many friends living in a dorm, including students from Brazil and China. I was able to improve my TOEIC score 200 points after my stay in Canada.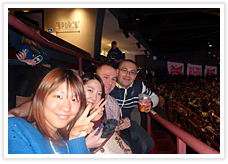 At an ice hockey game in Vancouver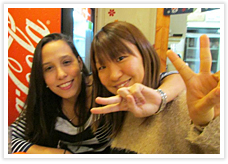 With my roommate from Brazil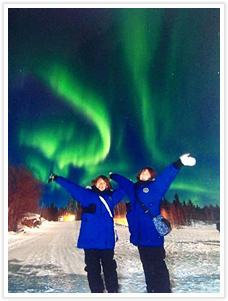 Level 5 aurora at Yellow Knife
Studying science and technology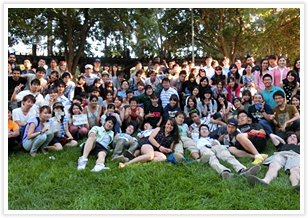 At UC Davis
After my experience in Canada, I decided to study abroad again during my 3rd year at Chuo, this time at the University of California, Davis, where I took a program in English for Science and Technology (EST). Here I was able to discuss topics related to science and technology in English, and learn presentation skills and visit organizations in the field.
In the Intercultural Research Project, I took a survey from 15 students in relation to their impression of Japanese people and technology which I summarized to give a presentation in the end. There were many opinions that mentioned how Japan gave a closed and passive impression. This made me think about what I could do to make a difference. I believed that I could be more hospitable to people around me and create a change even if very little.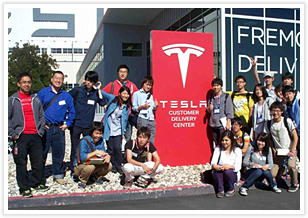 Visiting TESLA offices
The difficult class was Hot Topics in Science and Technology. Each class gave difficult topics, homework, and new phrases. The site visits in the afternoon required extensive preparation and I stayed up to study until 3am during the beginning week.
During my stay, I met many students with different backgrounds who were skilled in various areas. From this experience, I realized that my attitude towards studying changed after I came back to Japan. I am now more aggressive to learning new materials, even sitting in the front of the class so I can concentrate better.
I am extremely grateful to my kind host family. After meeting with many people, and visiting many companies, I can now imagine myself possibly working overseas in the future.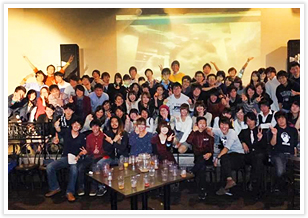 Reunion with UC Davis exchange students
Right now I am in the middle of job hunting, meeting with trade companies and manufacturers to find a job overseas. No matter what kind of position I will find, I will always believe in making all areas in the world happy.
For students at Chuo and in the Faculty of Science and Engineering, I strongly recommend applying for the exchange program at University of California, Davis.