Meet the Chuo Community
Mako Kawaguchi
Pursuing what I like opened the door to realizing my dream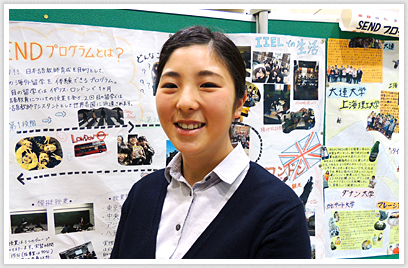 Japanese Teacher at the Bhutan Centre for Japanese Studies
4th year Faculty of Policy Studies, Department of Cross-Cultural Studies
Mako was attracted to Bhutan since she was in middle school.
She continued her studies in relation to Bhutan at Chuo University, and joined the SEND program to take a step closer to possible career opportunities.

Now, Mako teaches Japanese in Bhutan. As she reflects her past, she is certain that her decision making has made her who she is now.
(Interviewed in March 2015)
From the job hunting process to the SEND program
My interest in Bhutan started after an interesting documentary on TV that focused on the country. I was inspired by the local festivals and how the king was sitting together with the local children as they watched a play. I was immediately attracted to the uniqueness of Bhutan and began researching books and the net in relation to the country. After entering Chuo, I continued my research and wrote my thesis on Bhutan. My main focus was the country's policy for the Gross National Happiness index. The lack of resources in libraries got me deeply absorbed even more.
In my third year of university, as I began job hunting, I approached many interviews where I was required to explain about my research activities. Despite my passion for my research of Bhutan, I felt disconnected with the interviewers and realized that I was not going to be successful. This was when I found out about Chuo's SEND program. This program, which allows students to gain the skills to teach Japanese in countries overseas, gave me the hope to become a Japanese teacher and possibly visit Bhutan afterwards.
While at SEND, I had the best experience in every learning opportunity. I was not an education major nor did I have the experience of teaching part time. My experience during the training course at Institute of International Education in London (IIEL) became a major turning point in my life.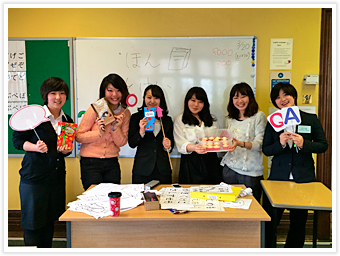 With the IIEL training members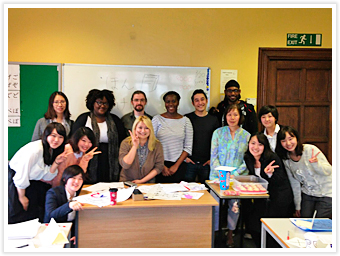 An extremely special experience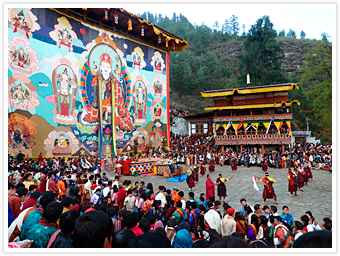 People praying and dancing around the Buddha painting displayed at a temple festival
My first visit to Bhutan came after finishing the SEND program. I traveled alone for 10 days, and visited the temples and home stayed at a village. During this memorable visit, I was impressed at how the people of Bhutan were extremely kind, and their actions centered on their families and friends. The friendly and open locals liked to communicate with people in general. I learned that there were many technologies from Japan being introduced in Bhutan and that there was a deep-rooted relationship between the two countries.
During my stay, I visited a Japanese school for 2 days, where I had the chance to talk about Japanese culture in classes. On the second day, the president and the regent of the school came to talk to me. They offered me if I would be interested to fill in for a teacher next year. I had just taken the exam for the teaching license on the day before I left Japan. I told them that I was still waiting for the result, however, they were happy to hire me as long as I liked Bhutan. It was truly a life changing event!
I am excited to work as a Japanese teacher in Bhutan starting next April. Within the general framework of the curriculum, I will be responsible of making and choosing my own textbooks and teaching materials. My goal is to teach students the correct Japanese that is useful if they came to work in Japan, along with the correct way of speech and the manners that reflect the spirit and culture of Japan. I will also continue studying their national language Dzongkha, English, and even Japanese in a deeper level.
My decision to go to Bhutan became a big turning point. Overcoming the worries that I had for going to a place where even my family did not know, I remember thinking strongly to myself that I would regret it if I didn't go. I told myself I should take this challenge regardless of the outcome. This first and important step taught me that the more the challenge, the better. There will be more options and open doors as much as you meet more people and build on your experience especially while you are young.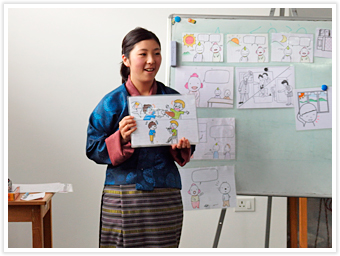 Using illustrations to teach Japanese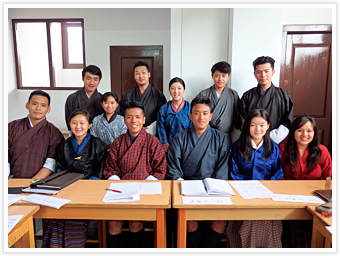 The students at the Bhutan Centre for Japanese Studies. One class consists of 10 to 20 students. There are approximately 100 students enrolling every year.