Meet the Chuo Community
Okuto Suzuki
Stronger self-identity by seeing the world
Chairman of Chuo's English Speaking Society (ESS)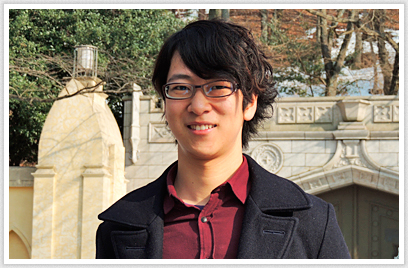 2nd year Faculty of Economics, Department of International Economics
I used to listen to English bands since I was a child. My father worked for a foreign company, so I would always envy his language skills as I watched him communicate with his colleagues. I was never the best student in English, but I always liked to study the language.
After entering Chuo University, I joined the English Speaking Society (ESS) where I was able to not only speak English but communicate with students who studied abroad, students who loved to travel, and speak with students from different faculties and departments.
Currently, as Chairman of ESS I organize the group of approximately 300 members. Many students including those in their first year come to join us because they want to generally speak English and study. In my opinion, it is important to have a specific goal before you start studying. You will learn faster and better if you have a reason to study. Not all ESS members can speak very well. I believe that it is far more important to try to communicate than being able to speak fluently.
This is why I give advice to the members to first set a short-term goal, such as participating in a speech contest, or communicating with English speakers. If everyone can each think of a goal and study hard together to reach it, ESS will become an organization that will attract more people that can contribute to the school and society.

Winning 2nd place in the speech contest sponsored by Sony and Shohoku Junior College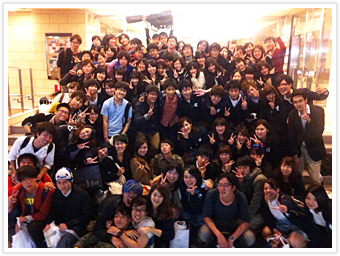 Members of the English Speaking Society (ESS) at Chuo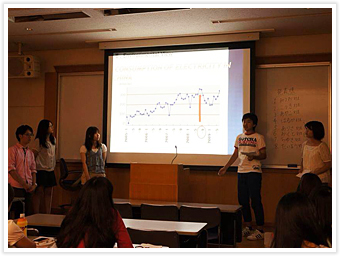 Speech contests are held regularly at Chuo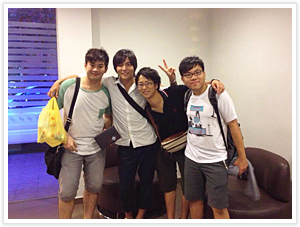 With friends from Nanyang Technological University, in Singapore
Although I am deeply immersed in English every day, my first international travel took place only last year to Singapore. I had suddenly decided to visit a friend who came to Chuo before from Nanyang Technological University. In Singapore, I visited Nanyang Technological University, and got to participate in one of my friend's classes.
This spring, I plan to travel to Arizona to meet a friend who was an exchange student at Chuo. I am also excited to see the Grand Canyon – something which I dreamt of since I was in middle school.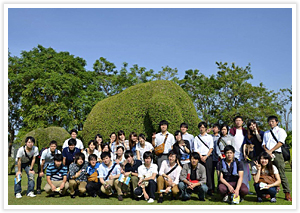 At the Thai Royal Palace during training program
At the Faculty of Economics Hasegawa Seminar, I am researching on the business development of global companies from theories of free trade, capital flow, and location. During the training program in Thailand, we give presentations at academic conferences, and visit Japanese companies. My third visit this year is my turn to give a presentation. I am working hard to be prepared so I can answer any kind of question that may be asked.
Through my studies in the Hasegawa Seminar, organizing the ESS and activities overseas, I learned that I am attracted to Japan and the people of Japan even more strongly than before. Although I am aware that my focus may change as I continue my studies, my wish is to expose the awesome Japanese products overseas and sell them in the future. To do that, I will continue to study harder about Japan and the world.