Meet the Chuo Community
Yukie Kurosawa
Realizing the desire to make someone else's life better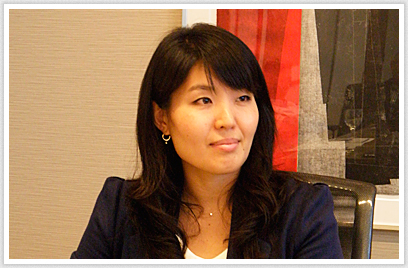 Legal Counsel in Japan and California Graduated from Faculty of Law, 2000
The first reason I chose to study at Chuo University was for its vast campus surrounded by the lush greenery of Tama hills. I was able to study with friends who all had a positive attitude and we helped each other overcome the hurdle of the bar exam. If it hadn't been for their support and advice, I wouldn't even have thought about taking the bar or continued to study until I passed. I cannot thank them enough. I still keep in touch with my classmates from my language class and social clubs, who always make me remember the good times spent together at university.
Working as an attorney in Los Angeles
After I graduated I was a judge at the Tokyo District Court for five years, and then practiced law at an international law firm for five years. Afterwards I moved to Los Angeles and after being admitted to the bar in California, I started working for the same law firm at their LA office.
My work includes representation of Japanese companies, conducting investigations under antitrust laws, relating to anti-bribery, and other white-collar crimes. I also represent American companies filing a lawsuit in Japan.
I think the most difficult challenge for me is to stay motivated to work! There are many reasons behind this. Meeting such talented people around me, working so hard that I start to think of other things to do that could be more important… I am constantly tempted to stop working. I never thought having a career was so tough, which makes me respect and appreciate many people who are my senior, including my father who has been working continuously for 50 years. Remembering this helps me keep my motivation, and makes me want to share it with people around me. I can proudly speak about my broad experience and meeting the wonderful people because I was able to keep working.
There was a change in my either-or perspective about work and family after encountering many people who are working extensively harder than me, who are spending valuable time for themselves, for their family, and for people who they have never met. Now I can see life as something that will not be controlled by work, and to respect and cherish the lives of my own, my family, and others around me.
I may still encounter many moments that become tempting to stop working, however I am confident that I will eventually overcome that moment and find a job and continue working again.
Being happy, and being helpful for others
Rather than complaining about how busy work is, or the risk that I might be laid off, or comparing someone else's conditions against mine, it is my goal to spend each day with a positive attitude without having my emotions control over the small things. This is of course only easy to say.
Another important belief is to be helpful to others. It depresses me when I think of the many talented and motivated young adults with great ideas to make each day better and their positive energy are being restrained by closed-minded people who come up with different counter opinions. I have met many encouraging individuals who are organizing pro-bono legal networks, connecting students to companies, and cleaning up the neighborhood with children. My message to university students would be to make it their mission to take action for someone starting now.