GLOMAC to host AC2022 Spring, Joint Reporting Session on Internship Program
On April 26, 2023, the Faculty of Global Management hosted the Joint Reporting Session for students who joined the AC2022 Spring Internship program.
The Faculty of Global Management facilitates education on career. It includes internship program in their regular curriculum in order for students to deepen their knowledge on business, industry, and society. Through joining this program, students have the privilege of leveraging their expertise knowledge in business management and global economy fields, which is the core learning of our faculty, and applying their communication skills. The internship program is open to everyone providing equal opportunities to every graders who wants to take a real look at the society.
At the Joint Reporting Session, students themselves who attended the internship program got a chance to reconfirm what they have learnt through the program, and by giving presentation, they gained a better understanding on their achievement. Furthermore, the Faculty of Global Management eyes the faculty-wide education on career through sharing their experiences with the rest of students and faculties.
Students giving a presentation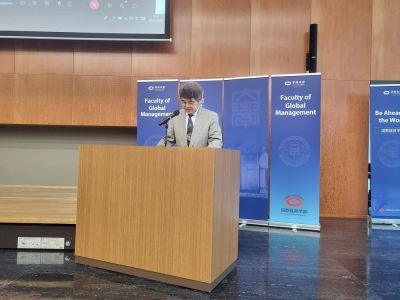 Greeting from the Dean, Shun-itsu NAKASAKO
At the presentation, the students focused on their changes in attitudes after the program such as becoming more active in working or communicating, besides acquiring expertized knowledge on translation, public relation, or marketing etc.
A worthwhile comment to share was one student saying that the experience of internship at the global company motivated the student to consider working at foreign companies in future.
At last, special thanks to President, Kazunori Kato of iL BRiLLE Co., Ltd., for attending the Session online and giving us favorable feedback.
Companies accepted the AC2022 internship program:
※ Factory Network China (FNA China)
※ iL BRiLLE Co., Ltd.
※ NIINUMA VIETNAM(Vietnam) *
※ RIKI NIHONGO (Vietnam) *
※ Capichi Viet Nam (Vietnam) *
※ G. A. Consultants Co., Ltd.(Vietnam) *
※ KOEERU Vietnam (Vietnam)*
※ Bills Double Bay (Australia)*
※ Cuckoo Callay on Crown (Australia)*
※ ECA-ELSIS (Australia) *
* Provided by Lighthouse Career Encourage Corporation
Through the integration of knowledge and experience of global management, the Faculty of Global Management will continue making effort to foster global business leaders rich in humanity.