Agreement of Cooperation signed with Panyapiwat Institute of Management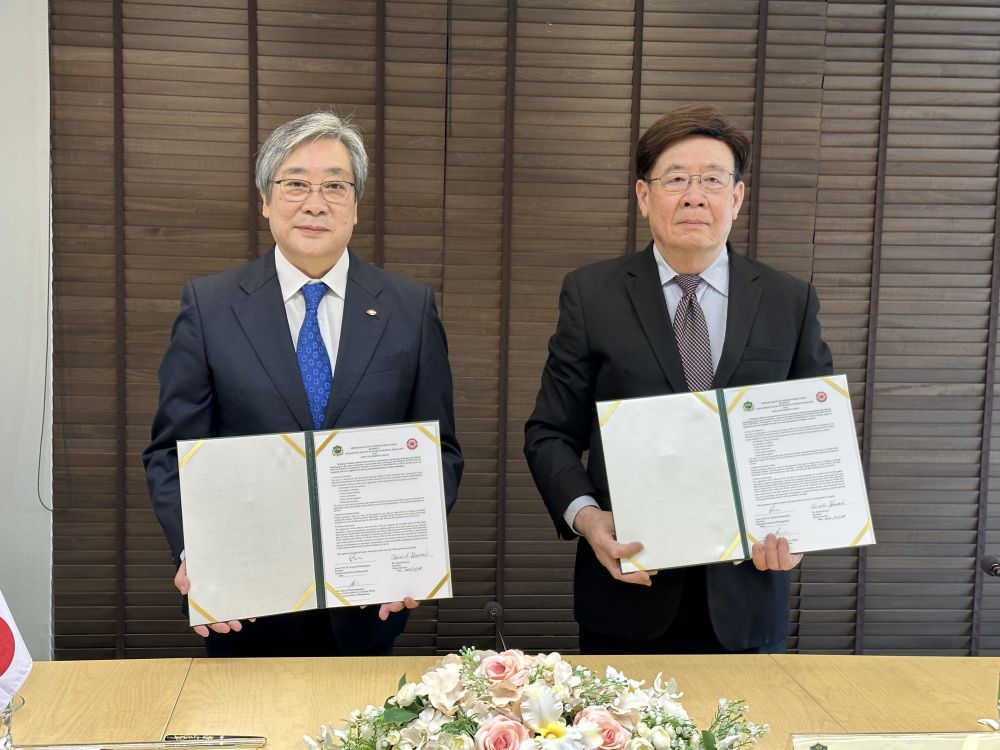 Chuo President Kawai and PIM President Manarungsan
On February 28, 2023, a ceremony was held to sign an Agreement of Cooperation between Chuo University and the Panyapiwat Institute of Management (PIM). The ceremony took place on the PIM main Campus in Nonthaburi, Thailand.
Chuo President Hisashi Kawai and the Assistant to the President, Masatake Saito, attended the signing ceremony with PIM President, Sompop Manarungsan, Vice President Phornvit Phacharintanakul, Vice President Peerapong Hirunviriya, and the Vice President of CP All Public Co. Ltd., Siam Choksawangwong. In a warm and friendly atmosphere, presentations were given introducing the two universities, then each President made a congratulatory speech and signed the Agreement.
PIM is the first and largest corporate university in Thailand, managed by CP All Public Co, Ltd., a member of the CP group, Thailand's largest conglomerate. As a corporate university, PIM provides work-based learning with the theme of "strengthening corporate values and sustainable society." PIM is also active in exchanges with Japanese universities, and Chuo's Faculty of Commerce has been running an internship program since 2014, enhancing a fruitful relationship with PIM. Recognizing Chuo University's aim of fostering talented individuals through practical education, this new Agreement is expected to generate multiple benefits on both sides, including university-wide mutual internships in the future.
On the following day, the Chuo delegation visited the PIM Eastern Economic Corridor (EEC) Campus in Pattaya, eastern Thailand, opened in 2020. Visiting the EEC, which is central to Thailand's national economic development strategy, was a wonderful opportunity to see PIM's state-of-the-art education and academic environment, which nurtures individuals who will play an important role in future innovation.
Including PIM, Chuo's international partner institutions have increased to 211.

Group photo