Chuo Vice President Attend the 80th Anniversary Celebration Event at Kasetsart University (February 7, 2023)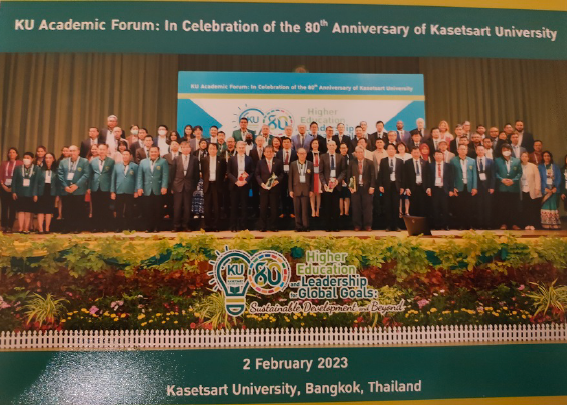 On February 2 and 3, 2023, Vice President and Director of the International Center, Hiroshi Shirai attended the 80th anniversary celebration event held at Kasetsart University in Bangkok, Thailand.
On February 2, with the theme of "Higher Education and leadership for Global Goals: Sustainable Development and Beyond," keynote speeches by four universities from Japan, Germany, Singapore, and the USA were delivered, introducing the projects in higher education institutions to achieve the Sustainable Development Goals (SDGs) from different perspectives.
As Kasetsart University was established in the field of agriculture, this event is an agricultural festival with stalls by students, presentations of products made from the university's research results, research exhibits, and stalls selling general agricultural products in many places on campus. The President noted that this event is expected to be a great success with more than one million people in total.
In addition, through the networking banquet and a tour of the research facilities at Kasetsart University, participants exchanged information with many other educational institution representatives and had an informal and friendly talk.
Since the agreement was signed with Kasetsart University in 1999, there have been many exchange programs, such as SEND Program, Human Development Program in Global Water-Environment Engineering, and SATREPS (Science and Technology Research Partnership for Sustainable Development) by the Japan International Cooperation Agency (JICA) and the Japan Science and Technology Agency (JST). More programs are planned in the future, such as the projects of the Faculty of Science and Engineering and the Sakura Science Program by JST, and further collaboration and exchange will be expected.