President's New Year Greeting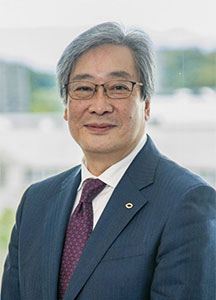 I wish you a very happy New Year and extend my warmest greetings for 2023.
The reforms that have been promoted under the "Chuo Vision 2025," the Chuo University mid- to long-term business plan, have finally reached a year of achievements. This year, the Faculty of Law and the Graduate School of Law will relocate to the Myogadani Campus, the Chuo Law School and the Chuo Graduate School of Strategic Management will move to the Surugadai Campus, and the Graduate School of Global Informatics will open at the Ichigaya Tamachi Campus. With these changes, the ratio of students between the Tama Campus and the grouping of Campuses in downtown Tokyo, including the Korakuen Campus, will be almost the same, and Chuo University will be reborn as a new university with two major campus loci.
These relocations mark a transition to achieve brilliant future development for the University. In turn, recognizing that it is extremely important to affirm the philosophy that Chuo University will pursue in the future, the University is now considering changes to extant educational programs and enhancement of future education at these two campuses. For example, it is expected that faculty members will be exchanged, new educational programs will be developed, and joint courses integrating humanities and sciences will be expanded and developed. As a first step, the Faculty of Law, the Faculty of Science and Engineering, and the Faculty of Global Informatics at the downtown Tokyo campuses will begin offering a joint course from this year, "Academic Frontiers." These new interactions between campuses will lead to collaboration with the local community and promotion of diversity, as well as enhancing the presence of Chuo University as a "university open to society," including recurrent education.
Meanwhile, the second phase of "Chuo Vision 2025" has laid out further focus on educational development, research support, and international exchange with digital transformation in mind. One such measure, last year the University formulated a "Policy on the Use of Digital Technology in Chuo University Classes." This is a basic policy stating that classes conducted at Chuo University will be face-to-face, in principle, while actively utilizing digital technology in line with the times and striving to improve the quality of education and ensure that quality is based on well-planned class design. This policy was not established to position distance learning as an easy substitute for the face-to-face class, but to maximize the advantages and benefits of both educational methods and synergize them to pursue new possibilities and a new way of education that is in line with the times.
In addition, the Russian invasion of Ukraine which began last February continues today with no signs of an end. In response to this tragic situation, in March last year, Chuo University issued a "Statement on the Russian Invasion of Ukraine" jointly signed by the Chief Executive Director Masahiko Omura and the President of the University. Furthermore, in support of various efforts by the international community to aid Ukrainian nationals, the University has been considering the implementation of financial and human resources support for education by utilizing institutional resources to the extent possible. Considering the purpose of the statement above, we have now developed a "Special Assistance Program to Provide Study Opportunities for Ukrainian Students " in order to accept, under certain conditions, Ukrainian undergraduates and graduate students who are losing opportunities to learn.
Finally, in order to create a bright future for Chuo University, I believe it is essential that we, the faculty, work together and exert our "emerging" strength through close cooperation. I would like to offer my gratitude for your continued understanding and support for our endeavors, and I wish you all a year filled with peace, good health, and happiness.



Hisashi Kawai,
President, Chuo University
January 1, 2023