A Ceremony was held in September at the Japanese International School for the opening of the new Chuo University Hanoi Office (September 4, 2022)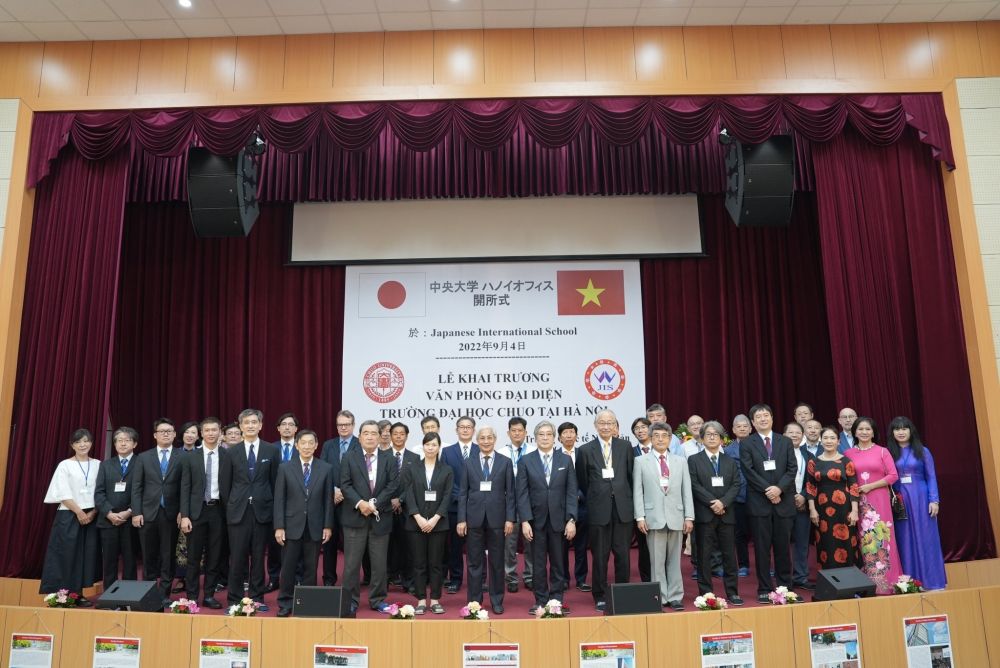 Commemorative photo
On September 4, 2022 (Sun), Chuo University held a Ceremony at the Japanese International School (JIS) located in Hanoi, Vietnam, to commemorate the opening of Chuo's fourth international hub.
Sixty people attended the opening ceremony, including Ms. Noriko Okamoto, Second Secretary of the Japanese Embassy in Vietnam; faculty and staff from our partner institution, Vietnam National University, Hanoi, and Thuy Loi University, Hanoi; business people in Vietnam; Chuo alumni in Vietnam; and Chuo's current international students from Vietnam. Attending from Chuo were, Representative Director and Chair of the Board, Masahiko Omura, President Hisashi Kawai, Executive Director Yasushi Ishii, Vice President and Director of the International Center, Hiroshi Shirai, Dean of the Faculty of Commerce, Yoshio Inoue, Dean of the Faculty of Science and Engineering, Kazunori Umeda, and Dean of the Faculty of Global Management, Shunitsu Nakasako. From JIS, Chairman Dao Xuan Hoc and other honored guests attended.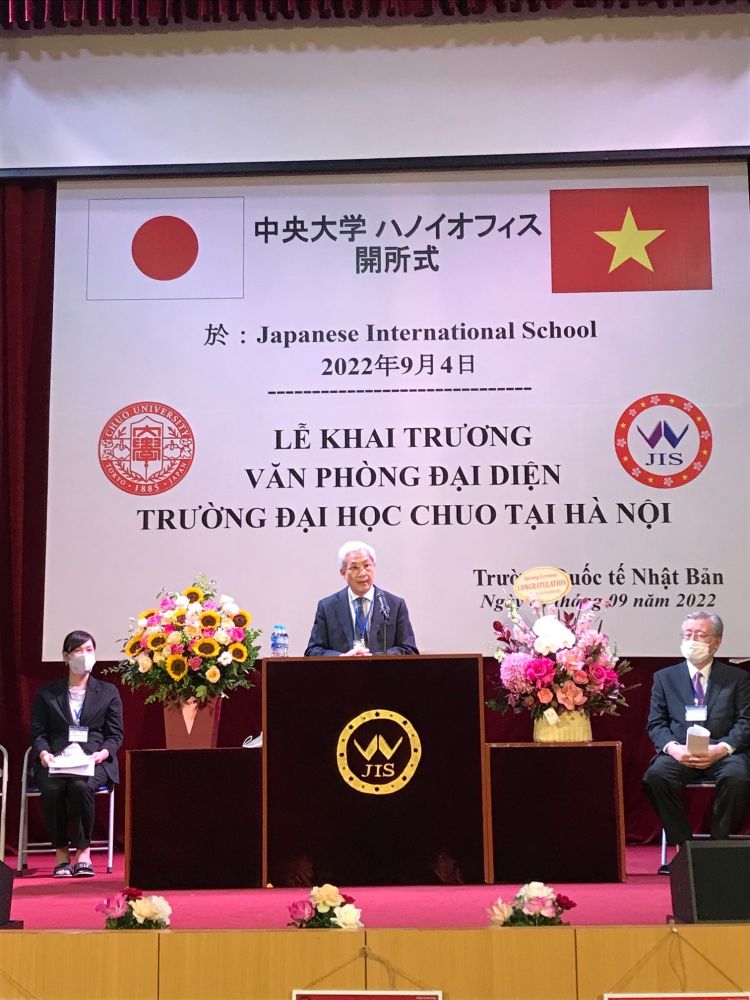 Greetings by JIS Chairman Dao Xuan Hoc
Chuo has established a comprehensive network of international partner institutions and designated overseas schools as part of strengthening its international strategy. Leveraging this network, Chuo will expand the high school-university cooperative education system that has been developed in Japan and overseas, cooperate with prestigious overseas primary and secondary schools, and by continuing to accept outstanding students, further promote human development in global society. In March 2021, Chuo entered into a cooperation agreement with JIS. Opened in 2016, JIS is Vietnam's first school integrating kindergarten through high school education, with the aim of establishing a school modeled on the Japanese education system. Professor Emeritus Tadashi Yamada of the Faculty of Science and Engineering served as the first Principal of JIS, and attended the opening ceremony.
The new hub at JIS has been established with a view toward the 50th anniversary of the establishment of diplomatic relations between Vietnam and Japan in September 2023.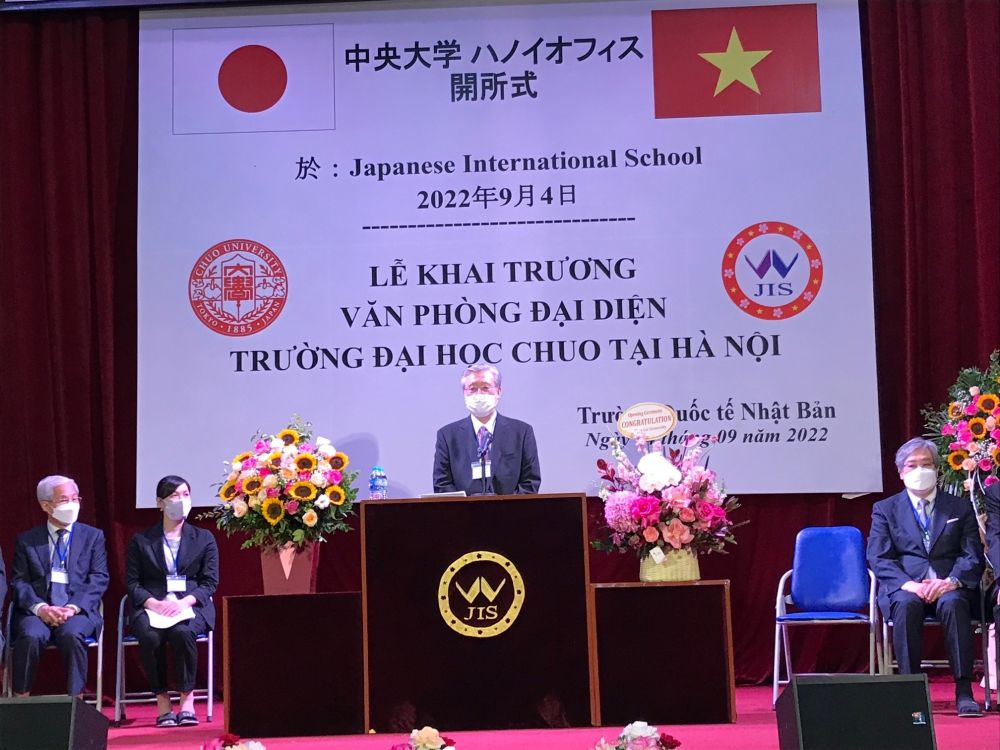 Opening remarks by Representative Director and Chair of the Board, Masahiko Omura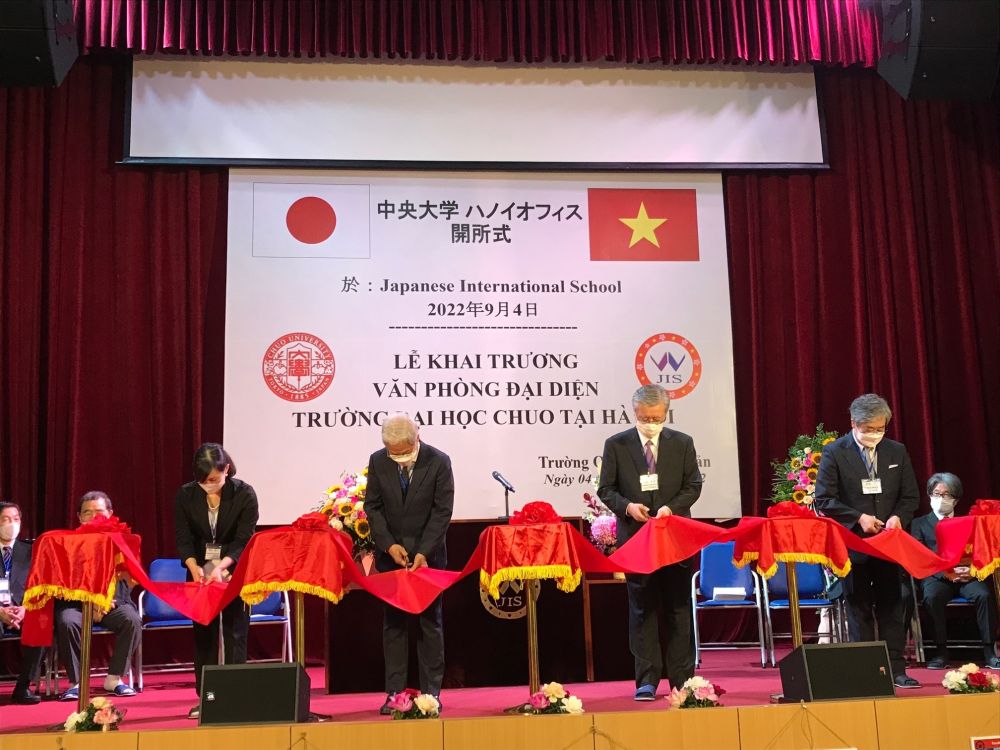 Ribbon-cutting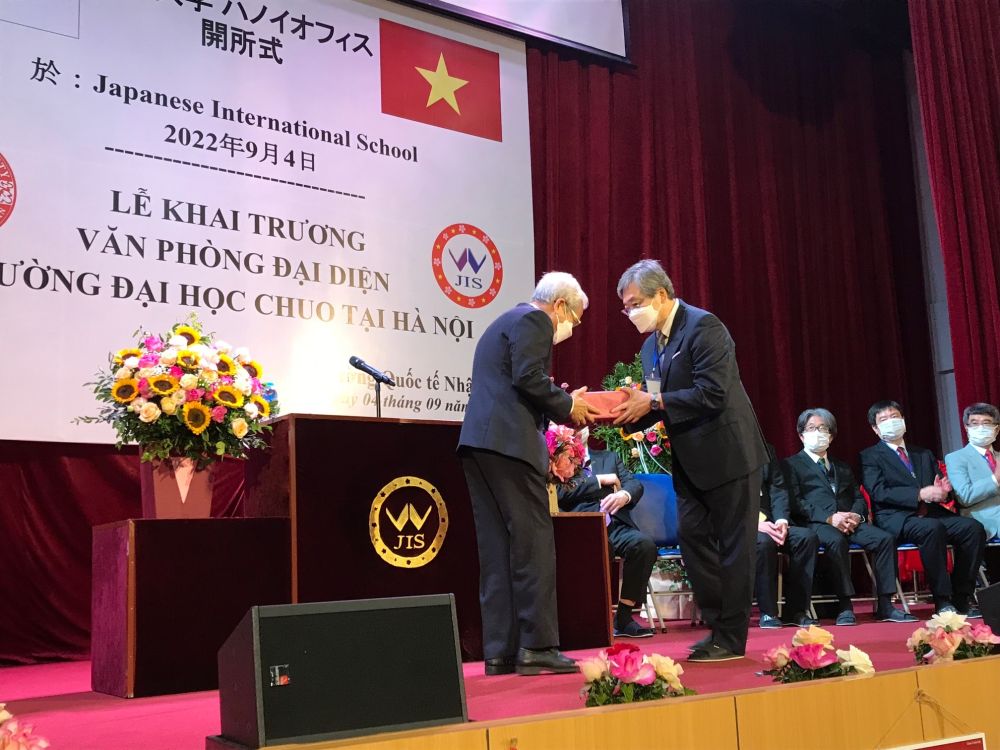 Presentation of commemorative gifts by President Hisashi Kawai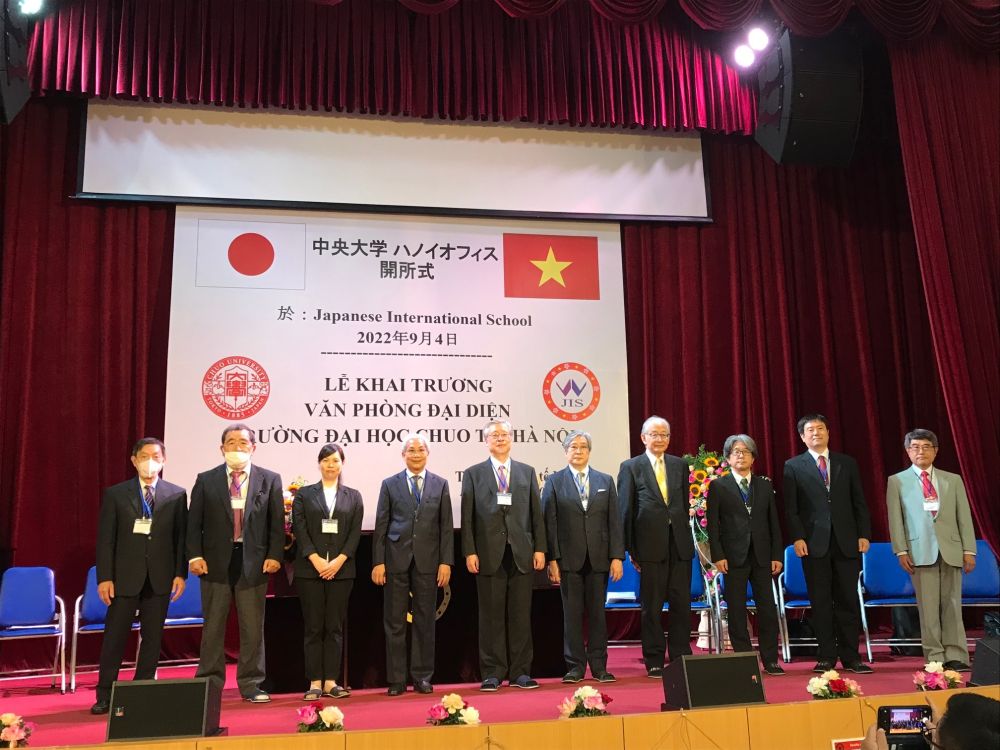 Commemorative photo
From left: JIS Vice Principal Toyama, JIS Principal Yamada, Second Secretary of the Embassy of Japan in Vietnam Noriko Okamoto, JIS Chairman Hoc, Representative Director and Chair of the Board Masahiko Omura, President Kawai, Executive Director Ishii, Dean Inoue of the Faculty of Commerce, Dean Umeda of the Faculty of Science and Engineering, and Dean Nakasako of the Faculty of Global Management