World Water Day Academic Webinar on "Regional Diversity of River Environments," March 22nd, 2022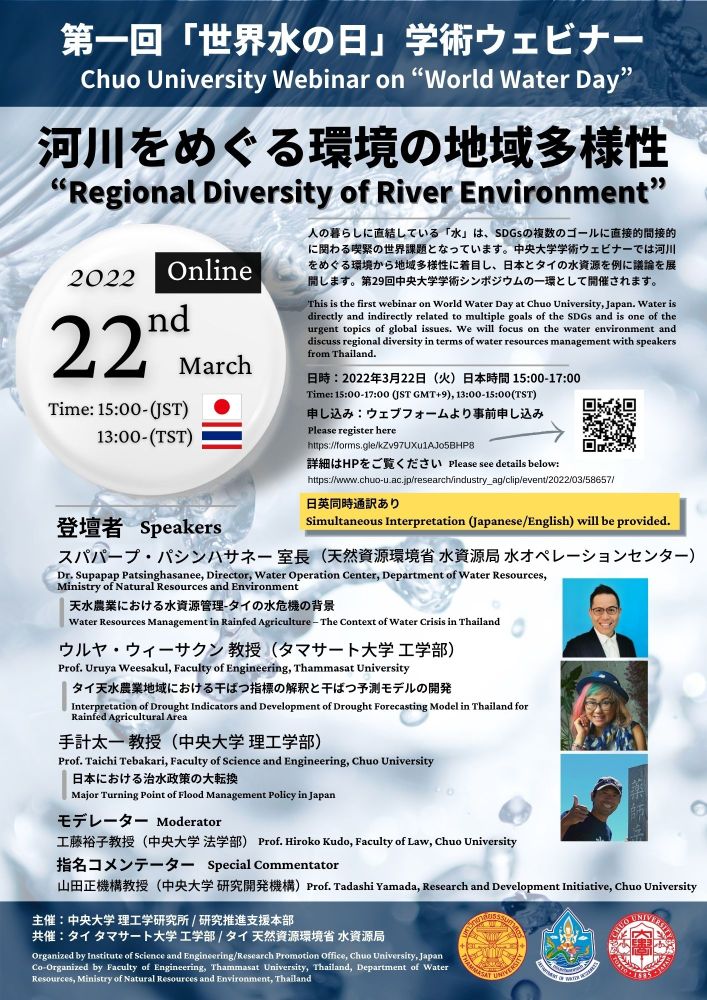 Flyer
"World Water Day" on March 22nd is an international day proposed in Agenda 21 of the Earth Summit in 1992 and designated by the United Nations in 1993. Various conferences, seminars, and exhibitions are held all over the world to raise people's awareness of the importance of water and efforts related to sustainable development to address water resources and the water crisis. In addition, the "environment surrounding water" is directly and indirectly related to multiple goals of the Sustainable Development Goals (SDGs) and is a theme at the forefront of current global issues.
 Chuo University's first academic webinar focused on the theme of "Regional Diversity of River Environments," with speakers from the Ministry of Natural Resources and Environment of Thailand and Thammasat University, a partner university of Chuo University, sharing the status and future policies of their country, together with a speaker from Chuo University.
In the Chuo webinar discussion session, participants joined in a multifaceted discussion considering the social issues of humankind with diverse values. The webinar was held as part of the 29th Chuo University Academic Symposium.
-Dr. Supapap Patsinghasanee, Director, Water Operation Center, Department of Water Resources,
Ministry of Natural Resources and Environment
-Prof. Uruya Weesakul, Faculty of Engineering, Thammasat University
-Prof. Taichi Tebakari, Faculty of Science and Engineering, Chuo University
Prof. Hiroko Kudo, Faculty of Law, Chuo University
Event Date: 22nd March, 2022
Time: 15:00-17:00 (JST)
Location: Online Webinar (simultaneous interpretation provided (English/Japanese))
Organized by Institute of Science and Engineering/Research Promotion Office, Chuo University, Japan
Co-Organized by Faculty of Engineering, Thammasat University, Thailand, Department of Water Resources, Ministry of Natural Resources and Environment, Thailand
15:00 Explanation of the program
15:05 Opening Remarks: Prof. Toshinari Kamakura, Director, Institute of Science and Engineering, Chuo University
15:10 Dr. Supapap Patsinghasanee
"Water Resources Management in Rainfed Agriculture ? The Context of Water Crisis in Thailand"
15:25 Prof. Uruya Weesakul, Faculty of Engineering, Thammasat University
"Interpretation of Drought Indicators and Development of Drought Forecasting Model in Thailand for Rainfed Agricultural Area"
15:40 Prof. Taichi Tebakari, Faculty of Science and Engineering, Chuo University
Major Turning Point of Flood Management Policy in Japan
16:05 Discussion
Moderator: Prof. Hiroko Kudo, Faculty of Law, Chuo University
Special Commentator: Prof. Tadashi Yamada, Research and Development Initiative, Chuo University
16:55 Closing Remarks
Prof. Toshikazu Kato, Vice President/Director, Research Promotion Office
For inquiries regarding this press release,
please contact: chuo-rpo-intl-grp@g.chuo-u.ac.jp
International collaboration, Research Promotion Office, Chuo University