Goodbye to being extremely local; Now delivering news to the world!! Receiving the baton from Chuo's alumni and providing access to information for people with hearing impairment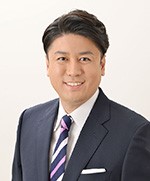 Yoshio Shinoda

OHK Okayama Broadcasting Co., Ltd. / Announcer
"Talking about Welfare in Sign Languages" Host in charge
Announcement Office, Manager
Head of Information Accessibility Promotion Office
Graduated in 2005 from the Department of International Economics, the Faculty of Economics
I am an announcer at Okayama Broadcasting, engaging in not just to make an announcement but also gather news to create my TV programs. I have been in charge of "Talking about Welfare in Sign Languages," a TV program of Okayama Broadcasting, for 5 years since I took over from the predecessor. As I create sign language programs together with people having hearing impairment, I always keep in mind that "sign language is a language just like other languages," and take the meaning to convey in the world disconnected from sound seriously.  
"Talking about Welfare in Sign Languages" was organized 30 years ago by then news desk who is a Chuo University's alumni. He came up with an idea to broadcast in sign languages when he covered the story of a college student who wanted to learn sign languages, so home-stayed at the couple's house who both having hearing difficulties. The former news desk wanted to convey the story to this couple.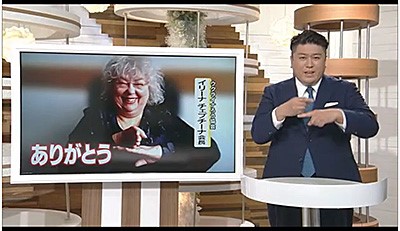 ▲Source: Okayama Broadcasting "Talking about Welfare in Sign Languages" "Thinking about the war and deaf people; I can't hear bomber sound; Ukrainian "Deaf" Chaotic due to the lack of sign language communications" (March 9, 2023)
In general, there are just a few programs broadcasted in sign languages, such as welfare programs or election broadcasts. However, if people with hearing impairment can gain local events news such as "cherry blossom has started to bloom in blah-blah park," or if they can enjoy entertainment programs, their world will be broadening even more. I can tell that for sure through my experience of organizing "sign language broadcasting." "Talking about Welfare in Sign Languages" has been on air about 300 times in the past 30 years and besides, we have broadcasted news shows in sign languages for about 400 times in the past 10 years. In addition, we challenged to the 100 minutes live broadcasting show covering news, local news, gourmet information and entertainment.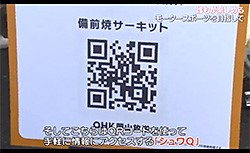 ▲In October, 2022, "Shuwa Q" contributed a lot in providing information related to Super Endurance Race. Source: Okayama Broadcasting "Talking about Welfare in Sign Languages"
Furthermore, thanks to the corporations of local companies, the idea of sign language broadcasting developed into the new form of "Shuwa Q (sign language Q)" and "Universal CM". "Shuwa Q" is a video system that provides information in three ways, sign language, subtitle, and sound through reading the QR code. This system is appreciated by not just disabled people but also children and elderly people. It is utilized at shopping malls or at art exhibitions as means to explain products as well as at the scenes of disaster. Moreover, it is widely used at banks, eating places, and home electric appliances' retail shops. "Universal CM" broadcasts commercial messages through sign language, subtitle, and sound. Additionally, we gave play-by-play motor sports announcing in sign language, and convey the contents of press conference of G7 Kurashiki Labor and Employment Minister's Meeting in Okayama in sign language, subtitle and sound as "Shuwa Q". In 2025, the Deaflympics will take place in Japan for the first time, so I am waiting for opportunities to come to give play-by-play announcement in sign language at the venue. I hope everyone will enjoy sports in universal way.
I have a strong feeling that people with hearing impairment are happy to listen to entertainment programs and commercial programs as they reflect the movements and trends of the society we are living now. They can realize that they are a part of the society. Another worthy point to mention is that we have conducted workshop to introduce our knowledge of sign languages broadcasting which we have cultivated in 30 years. The workshop was organized by the Ministry of Internal Affairs and Communications, and we hope that our efforts will spread out all around Japan as "Okayama Model".
Our 30 years efforts on sign language broadcasting spread to the world as "Okayama Model"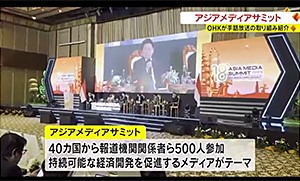 ▲ Giving speeches of Okayama Broadcasting's efforts at "Asia Media Summit" held at Bali, Indonesia in May, 2023. Source: Okayama Broadcasting "Talking about Welfare in Sign Languages"
We have received an international award to praise our easily accessible environment, "Zero Project Award 2022" initiated by Zero Project, an organization based in Vienna, Austria to help facilitate barrier-free movements in the world. We were the first Japanese broadcasting company to receive such award. In the wake of such opportunities, we had chances to talk at United Nations Office at Vienna in 2022, and at "Asia Media Summit 2023" in May. Visitors from the world started to come to see our office and as we interact with people from the world who engage in barrier-free promotion activities, our point of view towards creating programs have changed. We heightened our awareness that we possess universal point of view in terms of deaf people and abled people being on the same page to create programs together, instead of prompting deaf people to participate in the society as being said for sign languages broadcasting or "Shuwa Q". We are happy that our information accessibility bridges the barrier-free activities.
To express your word, To take an Action: The Starting points were Chuo University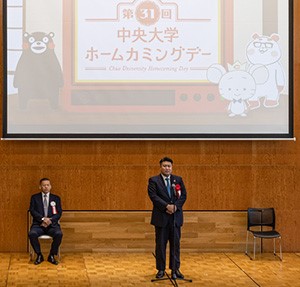 ▲Giving speech at the Alumni Association Homecoming Day held in November, 2022. Awarded the First Kunpu Prize.
18 years have passed since I became an announcer, and as a member of working adult, there were so many scenes that I appreciated from the bottom of my heart to have studied at Chuo University. To tell the truth, Chuo University was not my first choice of university and I was disappointed at greenish Tama Campus located at rural area of Western Tokyo. However, Chuo was the place which seemed to have nothing, but the place where everything is available. It was not until I graduated from Chuo that I realized this truth. If you are willing to take initiative, you can do what you want. Chuo has kind of "help yourself freely" atmosphere. I was able to act as I want without worry as I knew teachers and faculty members of Chuo were always supporting me. Even now, I feel secured with the support from Hakumon-kai especially from the local Chuo University Alumni Association.
At the "Zitatsugakkai (debate club)" where I used to belong when I was a University student, I learned the importance of expressing your words to others. Plus, I learned many things from the experience of being the chairman of "Kitachosen ni rachisareta Chudaisei wo sukuukai (Group of saving the Chuo University student who was abducted by North Korea)"; difficulty and importance of making it happen and achieving the goal; connecting with others, and so on.  
"How should I convey?" "What is the issue?" My working principle now is based on what I learned at Chuo University. Collecting information in depth will lead to a big scoop on news. I once received the FNN Annual Scoop Award and I also hold an event going beyond broadcast.
Dear Chuo University's students
Since my efforts on sign languages have been highly recognized, I have more global appearances such as giving speeches abroad or meeting with global customers. To tell the truth, I am not that good at speaking English. While English is a global common language and I myself do recognize that I need to learn more, it is true that I, who is not good at speaking English, can work abroad. This is because those who wish to know about our efforts support us thoroughly and act as an interpreter for us. I feel their thoughtfulness as well as earnestness so I ponder and ponder until just before the speech begins what and how I should convey to make them understand correctly. I know it is important to be good at English or foreign languages but before becoming a fluent speaker, I believe it is material to look for something that only you can do and find out what your own core value is.
I will keep working on in a manner that always having the perspective of "can every single person have an access to information?" in mind, and corporate with local firms to contribute to the local economy. Thus, I wish and set the goal that "every single person has an access to every information" will be a global standard in the society. Furthermore, I once interviewed a deaf Ukrainian who was forced to stay inside the shelter. In July, 2023, I attended the "World Deaf Conference (WFD2023)" held at Jeju Island in South Korea. I will keep working with international institutions to achieve the society of no deaf people in the world being left behind from any information including those living in conflict area.
Yoshio Shinoda
OHK Okayama Broadcasting Corporation Announcer
Announcement Office, Manager
Head of Information Accessibility Promotion Office
Born in Gifu Prefecture. Graduated from Chuo University, Faculty of Economics in 2005.
● Joined OHK Okayama Broadcasting Corporation.
Concurrently with announcement works in news programs, he created special TV programs and documentary programs. Program in charge: "Talking about Welfare in Sign Languages"
● Awarded Chuo University the First Kunpu Prize.