Skills for global Japanese

Masahiko Itoi

Director of PricewaterhouseCoopers Co., Ltd. (PwC) and Representative of Japanese Enterprise Section of Russia and CIS
Graduate of the Faculty of Commerce, Chuo University
Itoi exerts himself in foreign lands to support Japanese companies for their successful advance into overseas markets. Working as a consultant he understands the position of Japan in the international society as well as what is required for Japanese businesses in the global arena.
Having a strong desire to contribute to his native country and inspire its people, Itoi has held lectures to send out messages to young people in Japan.
Here Itoi shares his views of the present global situation, and describes the necessary skills that Japanese youths should carry to possess a vital role in the future.
Swift globalization of Japanese businesses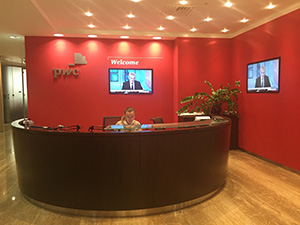 Reception desk at the PwC Moscow office. Itoi works with about 2,000 Russian workers here.
It has been 15 years since Itoi began living overseas. In Moscow as his current base, he offers consulting services in areas such as accounting, taxation business, judicial affairs and M&A for when Japanese companies expand into overseas markets. Itoi realizes the challenges companies are facing by supporting Japanese businesses entering overseas markets. Despite their excellent technological strengths, many Japanese companies are overwhelmed by vigorous neighboring countries in East Asia mainly from language and cultural differences. Moreover, corporate cultures unique to Japan often prevent them from successful overseas business. For example, in Japanese large companies, requests for decision usually have to be screened many times, which often becomes a time consuming process. There was a time when a joint venture was proposed by an overseas company, and the Japanese company took too much time to make a decision. As a result, the overseas company lost their patience and the opportunity was seized by a competitor in another country. There are also times when some Japanese companies may push their Japanese ways in overseas lands. It is important to understand and respect local cultures and differences. In contrast, letting subordinates do their jobs freely, which is considered good management in Japan, may cause uncontrollability in overseas sites.
Even in these situations, the trend of entering overseas markets is accelerating, although workers who are assigned to overseas offices may not be a strong communicator in English nor may not even be interested in working overseas. Regardless, it has been long since Japanese youths are said to be more introverted in nature, and I sense the danger that the future of Japan may sink.
Skills needed for globalizing Japan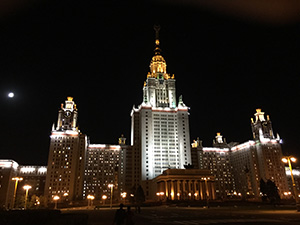 The school building of the Moscow State University, the highest seat of learning in Russia. "This is a building of the Stalinist architecture built in the era of the Soviet Union. In Moscow, there are 7 similar buildings called the Seven Sisters. The Moscow State University has many excellent students, and I would like the students of Chuo University to interact with them," says Itoi.
What kind of people development is necessary when we think about the future of Japan? Irrespective of generation, I think that the number of people who can take on challenges without fearing failure is decreasing. One of the reasons for this trend could be the fact that current Japanese companies still have the wrong corporate culture of "playing it safe." Although it is also important to consider the risks that could be associated with the business, it can be said that decisiveness and speed of decision making are essential for success in overseas markets. I would like current students to go out into the world while being aware of these current situations, not to get used to old corporate systems and to try what they think works. When they are assigned to a responsible position, I would like them to support their subordinates who challenge. If the number of these people increases, I think more companies will begin to change.
How should a student seek a company suited for him or her when the student is interested in jobs that are associated with overseas businesses? Although there are several effective methods, checking the financial report of a company (if it is a listed one) would be the first thing to do in job hunting. Financial reports show the company's business focus and how much emphasize they place for overseas business. Looking at the ratio of overseas business and how much they are advancing into overseas markets will help you make a decision to apply for that company.
Kremlin and Red Square in Moscow, a popular tourist spot at night
I think that many companies set a high value on students' communication skills when hiring new employees. Although academic records may be important, it can be said that it is essential to improve and cultivate personality. In fact, when I was hired by PwC in Belgium one year after I graduated from university, my TOEIC score was 420. They said that English proficiency would improve later and hired me considering my communication skills. However, this was under the condition that I would go back to Japan if I could not obtain sufficient proficiency in English within a 6-month trial period, which illustrates the austerity of foreign-owned companies. I remember regretting not studying English enough in my school days. Although languages are a tool, limited communication cannot make our thoughts and ideas truly understood by others. In addition, when a company hopes to develop global human resources, they look at the applicant's TOEIC or TOEFL scores during document screening. You need to pass the document screening first before you can show your communication skills after being called in for an interview. Therefore, I recommend that students should be receptive about acquiring language skills even if they are not perfect.
Challenge without fear of working overseas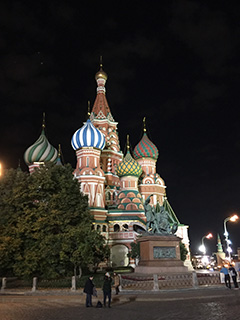 The Saint Basil's Cathedral in the corner of Kremlin and Red Square, which is registered as a World Heritage Site.
Through my job, I sometimes come across people assigned overseas who say that it is their first experience abroad. In Russia, some people even told me that they did not want to come to Russia because nothing but the negative image of Russia came first. However, living in Russia for a few years apparently changed this image. In reality, people in Russia have interest in the Japanese culture and technology. Products made in Japan are popular in Russia, making Japanese employees proud. Even those who were reluctant to live overseas at first have changed their mind and started to focus on working hard in the new environment. It is easy to worry over how to work together with overseas employees without understanding each other's languages. However, they are able to survive in the end, and end up realizing that what they thought was too difficult was in fact easier than expected. Except for some regions, we can lead a normal everyday life in any country. It is important to challenge yourself overseas and give it a try anyway. It will be an irreplaceable experience in your life.
Have pride in your job and origin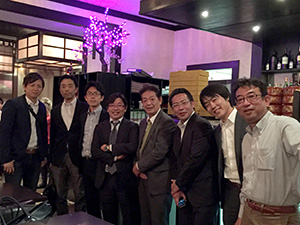 Itoi with other Chuo alumni, working hard in Russia. Here, a meeting was held with the aim to establish the Moscow branch of Hakumon-kai, an alumni association of Chuo University. Currently, the club has approximately 10 members.
I would like students with no overseas experience to take that step. The purpose could be leisure. Go overseas and see the places with which Japan is associated. Emerging countries have many infrastructures, including airports and railroads, developed by using the technologies of Japanese companies under the supervision of the Japanese government, and the local people appreciate such infrastructures. In Russia, one out of five people prefers and buys a Japanese car. People not only from Russia but also from other countries are interested in Japan and the Japanese people more than we think. I would like the Japanese students to see for themselves and realize the magnificence of Japan. If you have a chance visit the Chuo University alumni overseas and they will be happy to meet with you.
I have seen Japanese people and Japanese companies that are active overseas with my own eyes, which has made me proud that I am Japanese. I have realized that I am glad to be born as Japanese. When I contribute to the advance of my client companies into overseas markets, I feel satisfied with my current job which can contribute my humble efforts to the success of Japan. I would like students to feel what I have felt. I will be happy if students feel, even at the back of their mind, that they want to do something for Japan when they become workers.
Masahiko Itoi
Director of PricewaterhouseCoopers Co., Ltd. (PwC) and Representative of Japanese Enterprise Section of Russia and CIS
Graduate of the Faculty of Commerce, Chuo University
Masahiko Itoi was born in November, 1973. He graduated from Faculty of Commerce, Chuo University, in 1997. Itoi entered the American International Underwriters Corporation. He joined the Belgium corporate of PricewaterhouseCooper in 2000. Through service in Belgium and Poland, he started to support the advance of Japanese companies into overseas markets in 2005 with Moscow as his base. Itoi is currently Director and Representative of Japanese Enterprise Section of Russia and CIS, PricewaterhouseCoopers (PwC).