Osamu Suzuki

Representative Director and Chairman & CEO of SUZUKI MOTOR CORPORATION
Vice President of Nanko Club
From weaving looms to motorbikes and automobiles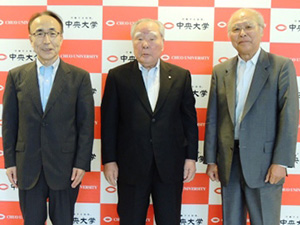 From left, Chancellor and President Sakai, Osamu Suzuki, Chief Executive Regent Fukazawa
After graduating from Chuo University I worked in a bank before entering SUZUKI MOTOR CORPORATION in 1958. SUZUKI MOTOR CORPORATION was established in Hamamatsu as Suzuki Loom Manufacturing Company in 1920, manufacturing and selling weaving looms developed by founder Michio Suzuki. At the time of our founding, because the Japanese textile industry was taking the world by storm, Suzuki Loom Manufacturing Company also posted steady sales. However, looms were highly durable products with little hope for replacement demand, and thinking of the future, the founder decided to enter the automobile industry. Motorbike production began in 1950. In 1955, the mini-vehicle Suzuki Suzulight (360cc 2 Cycle Engine) hit the market, becoming the pioneer of mini-vehicles in Japan.
Entering the 1970s and riding the wave of rapid economic growth, the car industry quickly increased exports to the U.S. However, due to voluntary restrictions imposed on Japanese automobile exports to the U.S., automobile exports became subject to a quota system. At the time, because Suzuki was a minor company at the lowest rank of Japanese automakers, there was no way we would receive a quota for exports to America. For that reason, we decided not to try our hand in the U.S. and thought, "Anywhere is fine, but we want to be number one."
Then, in 1975, in a joint enterprise with the Pakistani government, which had no domestic automakers at the time, the first automobile manufacturing plant in Pakistan started operations. In 1982, in cooperation with the Indian government, production began on a national car project.
At any rate, Suzuki was working feverishly hard to become number one in some country. It wasn't that we had a so-called great overseas strategy. We were careful to choose countries with stable governments where a coup was unlikely to occur. The important thing was to create employment and contribute to the economy of the host country and improve the lifestyles of the citizens. Another important factor is to keep doing what you once decided to the end. No matter where you go, I think it is important to have a challenging spirit.
Promotion of overseas expansion in the Middle East and West Asia
We have currently set up joint ventures in countries including Indonesia, Hungary and China. In March 2013 we built the first wholly owned car factory in Thailand. Since tariffs have been removed for trade among ASEAN countries, we are not taxed, even for mutually supplying parts with the Indonesian plant. If we produce two models in Thailand and two in Indonesia, we can sell four models in both countries. Moreover, if we standardize the parts, volume efficiency will increase. Therefore, we can produce these models by using all standardized parts in the Philippines, Vietnam, Cambodia, Myanmar and Malaysia. Mini-vehicles are popular in Asian countries, and by also being geographically close, Asia is an easy market to target. In the future we want to promote overseas expansion in the Middle East and West Asia as well as South-East Asia.
Focusing on management development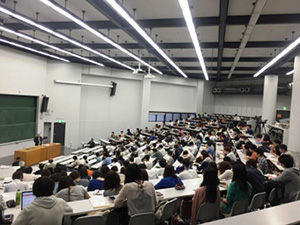 Suzuki giving a lecture to Chuo students (May 15, 2015)
In my hometown of Hida, on winter nights you can often hear the sound of cedar trees weeping. The sound is made by branches of the cedar trees breaking after heavy snow. On the other hand, bamboo trees have joints so it is supple and bends under the snow and can bear the weight. The joints are formed in conjunction with growth, and they sturdily support the bamboo, different from the fast-growing cedar tree.
We can say something similar about business growth. If it grows too quickly, it will become like bamboo becoming too long and will break easily. That is why I want to continue to take one steady step at a time.
Currently, we are conducting business in roughly 200 countries around the world by adding up cars, motorbikes and outboard motors,. As we expand on this scale, in order to avoid mass production of inferior products, it has become even more important to secure management resources. Therefore, I would like to especially put effort into human resources development in the future.
About Chuo University Nanko Club
Supporting organization of Chuo led by alumni in the business world
Since the founding of Chuo University, many talented graduates have been sent into various fields such as law, journalism, politics, and sports. Of those, the economic world boasts the greatest number of graduates, and many times we have raised great people who have lead that generation.
The Nanko Club was formed in 1952 by Chuo University graduates who were active in the economic world. In more than 60 years of its history, economists of the eras have participated the Club and it has become the most powerful organization in the Alumni Association with members of over 950. Starting with those connected to Chuo University, it has become a group with a high degree of familiarity in economic circles.
The Nanko Club is the place where all of the alumni aims for self-realization in economic field, in addition to current business managers, with the goal of friendliness and diligent study, and furthermore, support of the alma mater.
Through mutual edification and cooperation of the members, as well as networking for development of their businesses, this attractive organization aims to contribute to the development of the alma mater, Chuo University, while rallying together those with the same ambitions.
Chuo University was founded as the "English Law School" in Kandanishiki-cho, Kanda Ward, Tokyo in 1885. In 1926, when university buildings were relocated and rebuilt in Kanda Surugadai as part of the reconstruction after the Great Kanto Earthquake, headquarters were placed there until the liberal arts faculties were moved to the Tama Campus in 1978.
The name "Nanko Club", comes from the name of the location where the Surugadai campus was built, Surugadai Minami (minami is also read as "nan") Koga-cho. The town's name changed to Surugadai in 1933, and the club was given its name by the first president, Kensuke Matano (then president of Iino Lines) at its founding in 1952.
Osamu Suzuki
Osamu Suzuki was born in Gero-machi, Masuda-gun (now Gero-shi), Gifu in 1930. After working at a bank following his graduation from the Faculty of Law, Chuo University in 1953, he entered SUZUKI MOTOR CORPORATION in 1958. He is the son-in-law to 2nd President Shunzo Suzuki. He became director of the company in 1963. He was employed as president in 1978 after working as managing-director and executive-director. He became chairman in 2000 and president for the second time in 2008. He named himself the "old man of small-to-mid sized business", and with strong leadership focusing on the work field, he developed a manufacturing company centered on 28 models of cars, motorbikes and outboard motors in 20 countries. He is the Honorary Consul General of Hungary, president of the Strengthen the Chuo University Hakone Ekiden Association, and vice president of the Nanko Club.