Bridging the World and Japan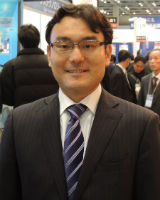 Akira Kono

Reed Exhibitions Japan Ltd.
Countries throughout the world are prioritizing international trade fairs as the trump card for economic invigoration and growth, as well as a powerful method for realizing an enormous economic effect. In Japan, efforts to organize exhibitions are being led by Reed Exhibitions Japan Ltd. In his current position of manager at the International Sales & Marketing Division, Akira Kono works to make trade fairs held in Japan more international.
Encounter with Reed Exhibitions
Originally, Kono had aspired to become an English teacher. However, after studying abroad in America for one year from the 3rd to 4th grades at university, he decided to enter employment at a foreign electronics parts manufacturer. "I wanted to acquire a variety of experiences in the midst of diversity," explains Kono, who worked with great desire.
Unfortunately, despite being employed at an international firm, all of Kono's work was locally based during his four years at the company. "I was worried that I wouldn't be able to realize the aspirations which I had as a university student," says Kono. He decided to change employers.
At that time, it seems that Kono was destined to encounter Reed Exhibitions, which organizes international trade fairs.
"I was attracted by how Reed Exhibitions truly conducts business on a global scale and how employees engage in direct competition with foreign corporations," explains Kono. "I was also impressed by the corporate philosophy of using exhibitions to expand the Japanese economy and connect Japan with the world, thus improving Japanese society."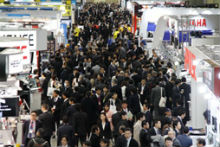 Reed Exhibitions holds more than 100 international trade fairs annually.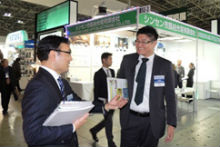 With a younger employee who also graduated Chuo University. Employees work together, often helping with international trade fairs outside of their own area of responsibility.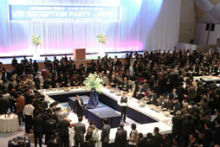 In addition to exhibitions, Reed Exhibitions also organizes a variety of events including lectures, seminars and reception parties with VIP attendance. There is a wide range of work responsibilities.
In charge of international trade fairs in the consumer goods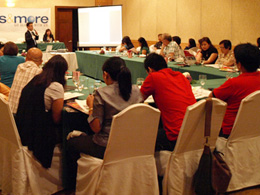 Information session at Cebu Island in the Philippines
Currently, Kono is mainly in charge of international trade fairs in the consumer goods field, including fashion, eyewear, gifts, stationery, etc. About 12 or 13 times a year, he takes business trips to around 15 cities in Europe, North America, Asia and other regions. During business trips, he works to attract foreign corporations and helps them successfully enter the Japanese market through international trade fairs.
Another example is an exhibition of gift items. Kono traveled by himself to small islands in the Philippines, holding information sessions and visiting individual corporations. He was able to attract many corporations to participate in the exhibition, thus creating a foothold for entering the Japanese market.One example of Kono's work is an eyewear exhibition. By persuading the French eyewear associations and French government officials, Kono succeeded in having about 20 French eyewear manufacturers participate in the exhibition. This led to the large numbers of French eyewear being stocked in eyewear stores throughout Japan.
Currently, Kono is active in a variety of industrial fields, working to persuade governments, industrial groups and corporations from various countries to enter the Japanese market.
"Our business model is very unique. We don't sell products which can actually be held or seen; rather, we sell business opportunities," explains Kono. "Therefore, my own personal character is challenged extremely often. But that's why I devote myself to this work."
For example, in an emerging nation like the Philippines, the problem of poverty always exists in the background of each corporation. If these corporations are able to succeed in the Japanese market and take a large amount of funds back to the Philippines, it will aid in the fight against poverty. Kono keeps this point firmly in mind when making proposals and negotiating with potential exhibitors.
Of course, some corporations were hesitant to enter Japan following the Great East Japan Earthquake. In response, Kono worked to persuade such corporations with great sincerity. "Today, the world offers words of kindness and sympathy for Japan," said Kono. "However, true aid consists of your coming to Japan and conducting economic activities. That's the greatest help for the Tohoku region and Japan as a whole!"
As a result of Kono's sincere and persistent explanation, many corporations have set aside their hesitation and participated in exhibitions.
Bringing more international flavor to trade fairs in Japan
Japan's trade fairs are still lagging when compared to Western countries. For example, in Germany, each city holds exhibitions nearly every week in venues which are 4 to 5 times larger than Tokyo Big Sight, Japan's largest venue. Moreover, Asian countries such as China and Korea realize the importance of such events and have enacted national policy for attracting exhibitors and constructing exhibition venues. During the period of international trade fairs, tens of thousands of industry officials from throughout the world gather together. This contributes to the growth of each industry and the economy in the host city. Consequently, an exhibition organizer is becoming the subject of respect as a professional who can make great contribution to society.
"By further increasing the international flavor of international trade fairs held in Japan, I hope to contribute to the growth of the Japanese economy and, in turn, the global economy," says Kono.
Improve yourself at university to perform globally
A global professional is someone who shines within a variety of values, culture and diversity. Kono says that it is important to cultivate the ability to perform globally from your time at university.
"Who are you? What can you do? What are your values?—these are the kind of questions you will be asked by Europeans, Americans and Asians. In my opinion, becoming able to answer such questions is the first step in becoming a global professional. For that purpose, you must start to earnestly address your tasks at the present moment. If you need to study, then study. If you want to study abroad, then go overseas. If you want to find employment, then start looking for a job. You must make an earnest effort in the present moment and solve any problems confronting you. Such effort is a kind of self-reflection. By repeating such effort, you will develop the character necessary to perform globally.
Akira Kono
Kono was born in Tokyo in 1974. In 1999, Kono graduated from the Department of English Studies in the Chuo University Faculty of Letters. After graduation, he started working at a foreign electronic parts manufacturer, where he was in charge of domestic sales for 4 years. Kono was then transferred to Reed Exhibitions Japan Ltd. In 2012, he assumed his current position of manager at the International Sales & Marketing Division.