Student Voices
Anton Sobin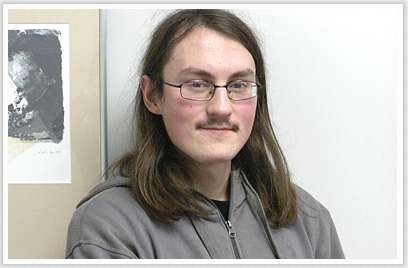 Anton Sobin
University of Strasbourg, France
After you decided to come to Japan, why did you choose Chuo?
Compared to other universities, Chuo seems to have better foreign student programs since they put emphasis on Japanese language studies and this was important for me. Also, I was interested in the history of Chuo. It is an old university with a tradition of law study, so the law faculty was a good choice. Also the location of the campus was attractive, as I prefer being near nature, so the Tama Campus is a good place.
How's your Japanese study going?
I've made a lot of progress in speaking Japanese here. When I was at Strasbourg, I took some Japanese classes, but there was not much chance to speak because we had 100 in a class with one teacher, so it was not possible to practice. It was good for learning Kanji but not a place for speaking.
How many Japanese classes are you taking, and what else are you taking?
I'm taking eight Japanese classes per week and five courses taught in English: Global Oil Markets, International Relations, Contemporary Issues of Law and Society in Japan, The Interactive History of Japan and China, and Japanese Literature.
I am staying at a flat introduced by Chuo, but it is not a dorm. It's a ten-minutes walk to Chuo and we have a lot of Chuo students and some foreign students in the building. I'm very happy that the International Center helped me find this place.
Any difficulty living in Japan?
Everything like phones, are written in Japanese, but I got a lot of help from the International Center to get Internet for my flat. It's nice to know we have someone who can help us on these matters.
What do you see as the strong point of Chuo?
If I compare Chuo to my home university, classes are small and you can communicate with teachers better here, staff at my home university try to stop me from getting what I want, learning progress, but Here in Japan, everyone is helpful.
Any advice for students who are interested in studying in Japan?
Do not hesitate and choose Chuo!