Meet the Chuo Community
Kana Ichikawa
Being positive and taking the challenge in difficult situations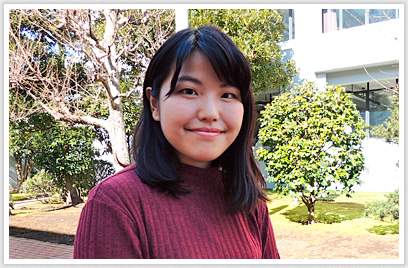 4th year Faculty of Letters, Division of Humanities and Social Sciences, Department of French Studies
Kana first became interested in international cooperation during middle school, when her teacher showed her class a video on Japan Overseas Cooperation Volunteers. She was strongly determined to go overseas during university. In her first year, she went to the Philippines for a one-week volunteer project organized by the travel agency and met with the local children.
I had a good experience volunteering in the Philippines, but the stay was too short that I felt I wasn't helping enough. This is when I started to be involved in the Table for Two International (TFT) NPO's segment at Chuo University. This is a cause to raise 20 yen per meal that would be donated to developing countries, to be used for children's school lunches. This system allows continuous donation to the countries in need, whether or not students are aware of it. Currently many companies and organizations besides Chuo are supporting the cause. I was in charge of TFT's segment at Chuo until December 2014. While I acted as leader, I focused on external relations and collaboration with organizations, resulting in more donations than before. We gave presentations to multiple restaurants and finally found a local café whose owner fully approved of our cause.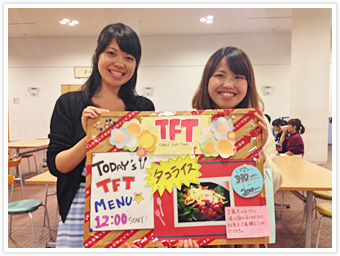 TFT menu at Leaf Cafe in C Square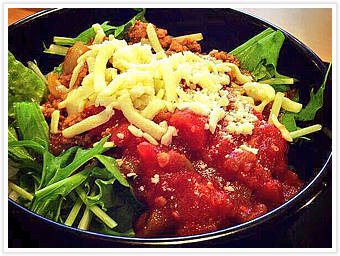 Taco Rice, a popular menu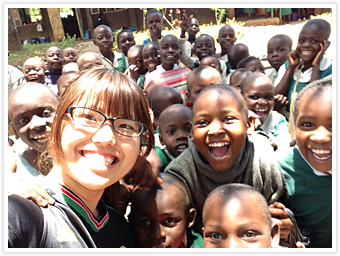 Volunteering in Kenya, a one month stay
While I was making presentations, I started wondering what it was actually like at the places we were supporting. To see for myself how the donations were being used, I decided to join a scholarship volunteer program at Kenya, which was one of the places TFT supported. There was no electricity, gas, or tap water where I stayed, and it took more than 2 hours to the nearest well. There were no Japanese staffs in the volunteer group, so I worked with local Kenyans and participated in activities with elementary children and planted trees.
I was shocked to see Kenyan staff members quarreling and hitting each other, and there were times when a few members were diagnosed with malaria. Every moment seemed completely unthinkable compared to everyday life in Japan. I felt a strong sense of accomplishment after completing the volunteer work.
I saw many people smiling where I worked. There were also times when I was helped by the local people, when I should be the one to help them. One day an elementary student bought me sugarcane. Thinking back, I had a wonderful time. In my report I concluded that I wish to support people for their development together, as opposed to providing a one-sided support.
After my experience with TFT and Kenya, I decided to join the International Cooperation Program (FLP) group. There I learned that there are many perspectives according to the people and their roles. After graduating I wish to contribute to international cooperation from a multiple viewpoint.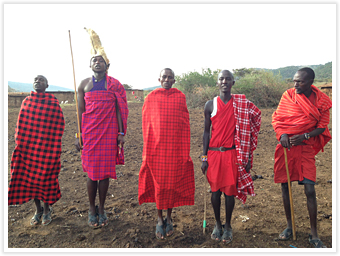 In Kenya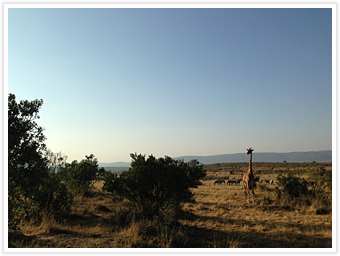 In Kenya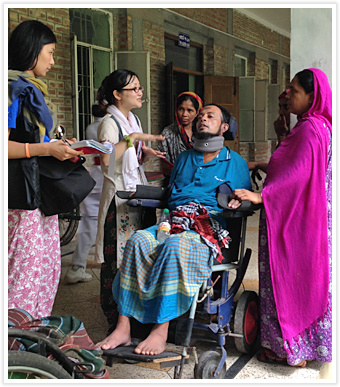 Field research on disaster awareness for physically challenged people in Bangladesh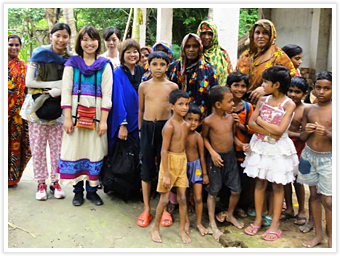 In Bangladesh
The reason behind how I was able to stay happy and positive even in difficult situations, is probably how I didn't compare and accepted each moment. When I was in developing countries, I never compared it to life in Japan. I kept in mind to accept and adjust to the life where I stayed. For this reason I only have good memories. Although it is true that life in Japan is far safer and convenient, I cannot express how much I have learned from my experience overseas.
In my case, I focused on the areas that I wanted to study, such as poverty and gender issues, to decide where to go.
I strongly recommend students to take action and go overseas while you can.