Meet the Chuo Community
Kanae Kiyota
Deeper values from new experiences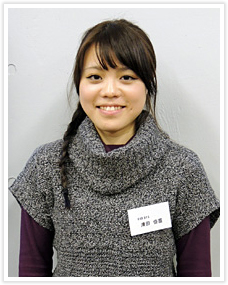 3rd year Faculty of Law, Department of International Law and Business
Last summer I visited my Japanese friend who lived in Canada for 3 weeks. The house was located in Jasper National Park, surrounded by beautiful nature. I was immediately aware of how the environment was treated a lot better than in Japan, and that was how I became interested in studying about the differences in environmental policy in each country. I applied for Chuo's Yaruki scholarship program and decided to study abroad in Canada.
I stayed in Vancouver where I encountered many surprises every day. Everything was new to me, from the way people use public transportation to the way people shop in stores.
Canada is a melting pot of cultures where many people from different backgrounds are residing. I was astonished to see people from Asia, Africa, and Europe blending in and coexisting without racial barriers despite their differences in religion and language. The diversity could be seen everywhere. For example, although their language is mainly English and French, there are multiple TV programs and newspapers in other languages such as Chinese and Italian. Riding the bus, people offer seats to each other whether you are black, white, Asian, or senior. There are no residential districts separated based by race. I strongly felt that this was a result of the Canadian government and their policies supporting diversity. From the increasing number of immigrants, I felt that Canada was a friendly place to live for people around the globe.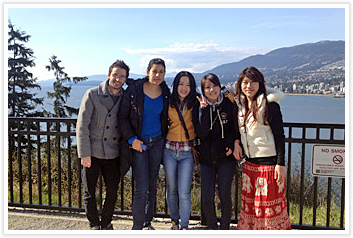 With volunteer members
During my stay in Canada, I discovered that the use of water is being controlled to prevent sewage from polluting the rivers. Shower time was strictly 10 minutes at the house where I stayed, dishwashers were used to efficiently save water, and the laundry was done once a week. Food scraps were also separated into recycles, composts were used for fertilization, and there was a deeply rooted awareness overall about lesser waste to sustain the environment.
On weekends, when my language school had no classes, I participated in volunteer work organized by the local volunteer group. Again, I was reminded about the high motivation people had towards protecting their environment compared to people in Japan. They did not ask for anything in return as we picked up garbage, planted trees, and guided in parks.
The language courses I took were mainly focused on speaking skills. I studied grammar in the morning and group presentation skills in the afternoon. Practicing many times in the classroom helped me learn how to express clearly and present well. I also learned that body language was very useful. Although there were more Japanese students in the same class as I imagined, I feel that my listening and speaking skills have improved significantly after a month of excessive studying.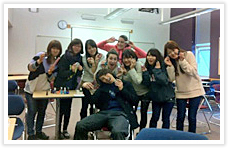 Nail painting activity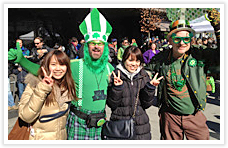 St. Patrick's Day Parade downtown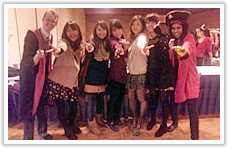 At International Night, wearing costumes
Contributing to the environment
My next goal is to travel overseas by myself, since I am now confident with my English communication level. I would like to visit a country that is abundant with nature, like Canada. After I graduate I wish to make changes in the urban development in Japan and use my English skills as well.
Through my experience from the exchange program, I was able to gain a deeper understanding of values. Studying abroad proved to be an extremely fruitful experience, as I gained a completely new perspective.